CENTCOM prepares for a dynamic response to any threat in South Eastern Mediterranean and the Persian Gulf
Anastassios Tsiplacos - South East Med Energy & Defense Analyst
The U.S. has shown that it has returned to the region for good after a short but critical period that will be labeled in the historical analysis as one of cognitive denial – a period during which Russia took the opportunity to reestablish itself in the region. Facing an unprecedented number of foreign policy flashpoints the U.S. Navy's current presence in the Mediterranean and the Persian Gulf aims to send a strong message, during a time of instability and violence, as is the current state of affairs given recent turmoil in Libya, Syria, as well as the troubled relationships with Iran, Turkey, Russia even China.
"100,000 tons of international diplomacy"
The John C. Stennis Carrier Strike Group (CSG) recently joined the Abraham Lincoln CSG in the Mediterranean, providing a unique opportunity for two strike groups to work together alongside key allies and partners in the U.S. 6th Fleet area of operations. This was the first time that two carriers have operated in the Mediterranean at the same time since the summer of 2016, when the Dwight D. Eisenhower and Harry S. Truman CSGs were deployed to the region simultaneously. The CSGs completed high-end warfighting training as they worked multiple scenarios integrating the two air wings and surface ships with key allies and partners in the European theater. In total, the dual CSG operations included more than 130 aircraft, 10 ships and 9,000 Sailors and Marines.
"In the era of great power competition, particularly in the maritime domain, one carrier strike group provides tremendous operational flexibility and agility," said admiral Foggo, commander U.S. Naval Forces Europe-Africa and Allied Joint Force Command Naples, Italy. "Two carrier strike groups operating simultaneously, while also integrating and advancing interoperability with our highly capable NATO allies and partners, provides an unprecedented deterrent against unilateral aggression, as well as combined lethality. It also should leave no doubt to our nations' shared commitment to security and stability in the region." U.S. Ambassador to Russia, Jon M. Huntsman added "Each of the carriers operating in the Mediterranean at this time represent 100,000 tons of international diplomacy. Diplomatic communication and dialogue coupled with the strong defense these ships provide, demonstrate to Russia that if it truly seeks better relations with the United States, it must cease its destabilizing activities around the world."
USS John C. Stennis (CVN 74) departed from the 6th Fleet early May heading to Norfolk for its scheduled midlife refueling and complex overhaul. It's CSG has been working with allies and partners through its deployment to include projecting joint capabilities with maritime forces from the French Charles de Gaulle Carrier Strike Group in the Red Sea. The Charles de Gaulle CSG, composed of France's Marine Nationale aircraft carrier FS Charles De Gaulle (R 91), F70AA-class air defense destroyer FS Forbin (D 620), and the Royal Danish Navy Iver Huitfeldt-class frigate HDMS Niels Juel (F 363), along with the John C. Stennis CSG, conducted aircraft training, a low-light gunnery exercise, and a liaison officer exchange program. "It's a rare opportunity to train with two carrier strike groups together," said a long while ago Vice Adm. Lisa M. Franchetti, commander, U.S. 6th Fleet.
The mission of NIMITZ-class USS John C. Stennis (CVN 74) and her embarked air wing is to conduct sustained combat air operations. The air wing consists of nine to ten squadrons with the following types of aircraft: F-14 Tomcats, F/A 18 Hornets, EA-6 Prowlers, S-3B Vikings, E-2 Hawkeyes, and SH-60 Sea Hawks.
The air wing can destroy enemy aircraft, ships, submarines, and land targets, as well as lay mines hundreds of miles from the ship. Additionally, the ship can embark Marine Corps air elements in support of amphibious operations. Aircraft onboard USS John C. Stennis can be used to conduct retaliatory strikes, support a land battle, protect the battle group or other friendly shipping, defend and preserve sea or air lanes, or just to provide a visible presence to demonstrate American power and resolve in a crisis. The ship will normally operate as the centerpiece of a Carrier Battle Group consisting of four to six other ships and commanded by an embarked flag officer. The ship operates with Joint Task Forces, allied nations, and all branches of service.
For defense, in addition to the Air Wing and accompanying vessels, USS John C. Stennis has the NATO Sea Sparrow short-range surface-to-air missile system, the Phalanx Close-in Weapon System for cruise missile defense, and the SLQ-32 electronic warfare system.
On March 13 1991, the keel for John C. Stennis was laid. On Veteran's Day, November 11, 1993, nuclear-powered John C. Stennis (CVN 74) was christened at Newport News Shipbuilding and Dry Dock Company, in honor of John Cornelius Stennis of Mississippi who served in the Senate from 1947 to 1989. USS John C. Stennis was commissioned on December 9, 1995 at Naval Station Norfolk, Va.
US reenforcing it's presence in S.E. Mediterranean and the Gulf
The U.S. Navy currently had no aircraft carrier in the Persian Gulf, that is why it is deploying the USS Abraham Lincoln Carrier Strike Group, with a wing of warplanes and 3,000 sailors aboard. It is accompanied by the USS Leyte Gulf, a guided-missile cruiser, and four destroyers: the USS Bainbridge, Gonzalez, Mason and Nitze, heading eventually east to the Red Sea and perhaps then to the Arabian Sea or the Persian Gulf.
USS Abraham Lincoln CSG is deployed in response to a number of indications and warnings about escalatory actions from the Iranians, in order to send a clear and unmistakable message to the Iranian regime that any attack on United States interests or on those of its allies will be met with unrelenting force. US Navy has deployed also additional warships to the Middle East, as tensions continue to rise between Washington and Tehran. The USS Arlington, which transports marines, amphibious vehicles, conventional landing craft, and rotary aircraft, as well as a Patriot missile defense system will join the USS Abraham Lincoln CSG .
At the same time, U.S. CENTCOM dispatched four B-52 long-range bombers, capable of carrying 70,000 pounds of bombs, to "Al Udeid" Air Base in Qatar. Acting Defense Secretary Patrick Shanahan has presented an updated military plan to President Donald Trump's national security aides that envisions sending up to 120,000 troops to the Middle East, should Iran attack American forces or accelerate work on nuclear weapons. The proposed deployment of 120,000 troops would be nearly equal to the amount of US troops that invaded Iraq in 2003. However, the plan does not call for a land invasion of Iran. U.S. National Security Adviser John Bolton said the United States "…is not seeking war with the Iranian regime, but we are fully prepared to respond to any attack, whether by proxy, the Islamic Revolutionary Guard Corps, or regular Iranian forces."
Mossad intelligence agency reportedly alerted the United States that Iranian elements may be preparing to strike American or allied targets in the Gulf region. "It is still unclear to us what the Iranians are trying to do and how they are planning to do it, but it is clear to us that the Iranian temperature is on the rise as a result of the growing U.S. pressure campaign against them and they are considering retaliating against U.S. interests in the Gulf," Israeli intelligence sources said.
According to a report, the increased US military presence in the Gulf and the spike in tensions with Iran might have been triggered by photos of Iranian missiles in Basra pointing toward the Gulf region, which were obtained by the Israeli intelligence and shared with the United States. The Pentagon is working, as well to declassify and release these images that back up the Trump administration's claim of the increased threat, including pictures of two Iranian boats carrying cruise missiles, According to the report, this is the reason for the sudden, unscheduled visit of US Secretary of State Mike Pompeo to Iraq last week, to meet with Iraqi Prime Minister Adel Abdul-Mahdi.
Immediately afterwards, mr. Pompeo decided to place Iraq on "ordered departure" and the US embassy in Baghdad announced that it would be removing non-emergency US personnel from the country due to an "increased threat stream." The warning from the US embassy included Erbil in the Kurdish region of northern Iraq — an area which has seen far fewer violent incidents than federal Iraq. The announcement came after the US tightened sanctions on Iran's energy industry and drone attacks on a key Saudi oil pipeline that Iran-linked Houthi militia took credit for. Risk analysts said that the decision to remove some personnel "…appears to be a political decision" that is "…more about the US not wanting to engage with Iran in Iraqi territory as part of its 'maximum pressure' campaign." However, other foreign embassies have different assessments of the threat level in Iraq. But authorities from Germany and the Netherlands said they were suspending training programs due to heightened risk.
Iraqi defense officials have said that IOCs are continuing their work in the country, and that the country is not under threat from Iran or Iran-linked militia. US major ExxonMobil and BP said they are monitoring the situation in Iraq, following the announcement from the US embassy. Reuters reported that Exxon Mobil has evacuated all its foreign staff members out of Iraq's West Qurna 1 oilfield and is flying them out to Dubai. Shell also said it is closely monitoring the situation in Iraq, adding to the list of major international oil companies that are watching the country amid increased geopolitical tension between Iran and the US. ExxonMobil, BP, Eni and Lukoil operate four of Iraq's largest oil fields: West Qurna 1 by ExxonMobil, Rumaila by BP, Zubair by Eni and West Qurna 2 by Lukoil. Shell has pulled out of oil activity in Iraq, but is the most active IOC in the gas sector through its gas-capture program in Basrah, the Basrah Gas Company, a joint venture between Shell and the Iraqi government.
"Maximum Pressure" campaign
The concerns expressed by mr. Pompeo and U.S. defense officials contrast with U.S. Central Command's (CENTCOM) assessment just over a month ago. Despite Iran's "significant capability" in Syria and the region, CENTCOM officials said there were no indications Tehran was setting its sights on U.S. forces. "Iran's priority is to defeat ISIS, which it sees as an existential threat," the Defense Department's Lead Inspector General for Operation Inherent Resolve said, summarizing CENTCOM's March 26 assessment. "They are not displaying the intent to attack U.S. forces," the report added, warning, "…this calculus could change if Iran perceives a U.S. desire to ramp up anti-Iranian activities in a post-ISIS environment." Some former U.S. intelligence and security officials worry, however, that recent rhetoric from the White House combined with its ongoing "maximum pressure" campaign, has done just that.
The Trump administration has been working to apply what it calls a "maximum pressure campaign" against Iran to try to get the country to change its behavior, including its sponsorship of terror groups and what the White House alleges is a ballistic missile program that threatens the United States. Since withdrawing from the 2015 agreement that curbed Iran's nuclear ambitions, the Trump Administration has been intensifying the pressure campaign against Iran. Having withdrew from the Obama administration's landmark nuclear deal with Iran in May 2018, in the months that followed reimposed punishing sanctions including those targeting Iran's oil, shipping and banking sectors. President Trump announced the U.S. will no longer exempt any countries from U.S. sanctions if they continue to buy Iranian oil, a decision that primarily affects the five remaining major importers: China and India and U.S. treaty allies Japan, South Korea and Turkey. The U.S. also recently designated Iran's Revolutionary Guard as a terrorist group, the first ever for an entire division of another government.
Division within the Administration
On the other hand, President Donald Trump is wary of drawing the U.S. into a war with Iran, in part out of concern that an armed conflict with the Islamic Republic would imperil his chances at winning a second term. Nevertheless, there is division within the administration over the approach to Iran. At the same time, the president is cognizant that he was elected in part on promises to withdraw the U.S. from Middle East wars -not start new ones. Some say that privately mr. Trump has said he doesn't want war with Iran. "I hope not," he told reporters when asked about the prospect of war before a meeting with Swiss President Ueli Maurer.
At the same time, mr. Trump's base wants him to show that the U.S. won't be pushed around. Mere saber-rattling, is unlikely to erode Trump's political support as long as the economy remains strong. And there is uncertainty among some of mr. Trump's political advisers about whether an Iran war would surely damage his re-election prospects. One person close to mr. Trump observed that President George W. Bush won a second term after starting two wars, and another suggested the American public might rally around the president in the event hostilities broke out with Tehran.
Iran's defiance
Iran's economy is expected to shrink for the second year running and inflation could reach 40%, an International Monetary Fund senior official said last month, as the country copes with the impact of tighter U.S. sanctions. The sanctions have crippled Iran's economy, but not brought Tehran closer to meeting US demands that it cease its missile weapons program and end its regional activities. Iranian President Hassan Rouhani, pointing out that under the terms of the nuclear deal Iran does not have to perform its commitments, regarding nuclear activities, if any of the other parties of the agreement re-impose or introduce new sanctions. He gave a 60-day deadline to the other signatories of the Joint Comprehensive Plan of Action (JCPOA) to deliver on what it promised Iran as part of the nuclear deal.
Moreover, in response to U.S.' designation of the IRGC as a terrorist group, Iran responded by declaring the United States a state sponsor of terrorism and its forces in the Middle East as terror groups. Iranian Foreign Minister Mohammad Javad Zarif accused recently mr. Bolton and others, including Israeli Prime Minister Benjamin Netanyahu, of "…designing confrontation," but added that he did not "…think military confrontation will happen." He also accused the U.S. administration of "…putting things in place for accidents to happen. And there has to be extreme vigilance, so that people who are planning this type of accident would not have their way."
Ayatollah Yousef Tabatabai-Nejad, who represents the Isfahan Province in Iran's Assembly of Experts, said last week that the US' "…billion-dollar fleet can be destroyed with one missile." He did not elaborate, though, which particular missile he had in mind. Earlier, Brig. Gen. Yadollah Javani, Lieutenant Commander of the Islamic Revolutionary Guard Corps (IRGC) dismissed both the military threats and the suggestion for talks by the US President, who invited Iranian leaders to "call him". He said "Negotiations with Americans will not take place, and Americans will not dare to take military action against us. The Americans are in a state of turmoil and anger," because Iran did not descend into chaos after Trump withdrew from the nuclear accord and imposed sanctions. "Because of their desperation, they have done whatever they can to break the Iranian nation's 40-year-old resistance," Javani said and added that the US "…will not dare to launch a military action against us."
Evading U.S.' sanctions
At the same time, a tanker carrying Iranian fuel oil in violation of U.S. sanctions has allegedly unloaded its cargo into storage tanks near the Chinese city of Zhoushan. The discharging of the nearly 130,000 tonnes of Iranian fuel oil onboard the tanker, the "Marshal Z", confirmed by a representative of the oil storage terminal, marks the end of an odyssey for the cargo that began four months ago. Reuters reported on March 20 that some Iranian fuel oil had managed to evade the United States' sanctions on petroleum exports by using ship-to-ship transfers involving four different ships, including the "Marshal Z", and by using forged documents that masked the cargoes as originating from Iraq.
The unloading of the fuel oil comes less than two weeks after U.S. President Donald Trump's administration stepped up moves to choke off Iran's oil exports by scrapping waivers it had granted to big buyers of the country's crude oil including China. Refined products like fuel oil, mainly used to power ship engines and generate electricity, were not covered by the temporary waivers granted on the sanctions, reintroduced in November 2018.
The suspected sabotage of oil tankers puts the Persian Gulf on high Alert
The U.S. Maritime Administration has warned of what it called the "…increased possibility that Iran and/or its regional proxies could take action against U.S. and partner interests … by targeting commercial vessels, including oil tankers or U.S. military vessels." Shortly after, Saudi Arabia announced on May 12, that four oil tankers off the coast of the Emirati port of Fujairah suffered damage in what the United Arab Emirates has described as sabotage. A day later, Saudi Arabia confirmed an attack against two of its tankers, "Amjad" and "Al Marzoqah". The other tankers involved included the Norwegian-flagged "Andre Victoria", as well as a small Emirati bunkering tanker that had been supplying the Andre Victoria. The kingdom's energy minister said one of the tankers had been on its way to the Saudi port of Ras Tanura to pick up oil to deliver to the United States.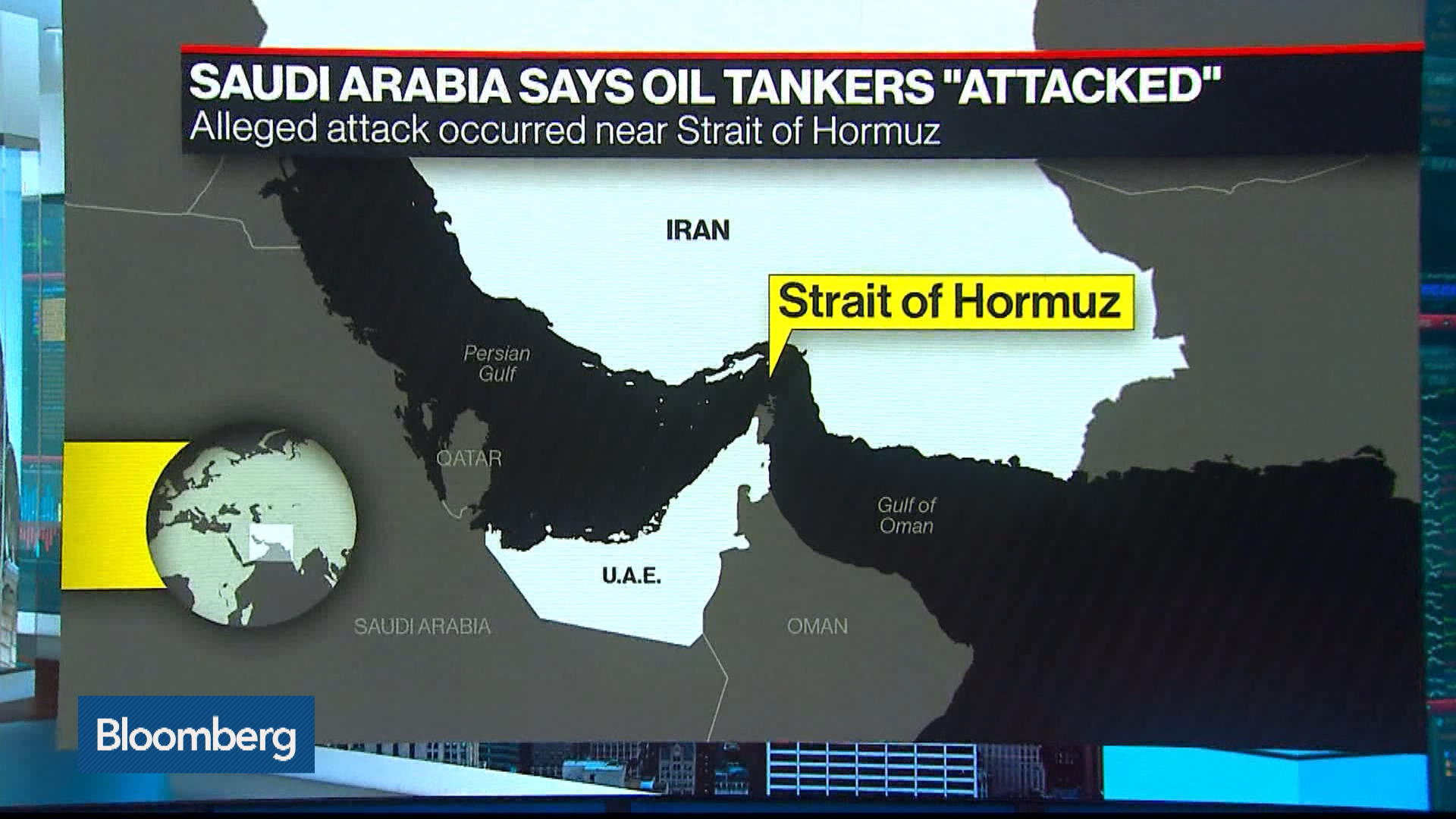 No evidence has yet emerged that Iran sabotaged the four vessels in the United Arab Emirates, but given that it has threatened tankers traversing the Persian Gulf in response to U.S. actions, it is an incident worth watching closely. Since the incident, Iran's response has been reserved, as the country's officials have sought to distance Tehran from the apparent sabotage. The head of the Iranian parliament's National Security and Foreign Policy Committee tweeted on May 12 that the incidents indicated the fragility of Persian Gulf security, while the head of Iran's Foreign Ministry depicted the incidents as "worrisome."
Meanwhile, the Bahrain-based U.S. 5th Fleet has yet to issue a public response. The U.S. political response -particularly as to whether Washington directly attempts to tie the incident to Iran- will provide clues as to Washington's coming course of action given that the United States is already searching for justification for a potential military response to Iranian aggression. For the moment, all parties are reacting with caution -but that could change rapidly as more information comes to light.
A Saudi pipeline drone attack amps up suspicions on the Arabian Peninsula
A day after, Saudi Arabia said that two drones laden with explosives targeted two pump stations on the East-West pipeline, which carries oil from eastern Saudi Arabia to the Yanbu port. The attacks caused minor damage and a fire at one of the pumping stations, Saudi Arabia claimed, noting that Aramco shut down the pipeline as a precaution to assess its condition. Hours after the attack, Houthi-owned TV Almasirah reported that "7 Drones have targeted vital Saudi facilities."
There are more questions than answers following the incident in the Gulf of Oman, that could raise the stakes in a battle pitting Iran against its regional adversaries and the United States. The East-West pipeline provides Saudi Arabia with a critical alternative for exporting oil that allows it to bypass the Strait of Hormuz, a chokepoint between the Persian Gulf and the Gulf of Oman, that Iran has threatened to shut down. The Emirati port is a key refueling port for transport ships that sits near the entrance to the Strait of Hormuz.
The success of the attacks points to the growing capabilities of longer-range Houthi drones, as well as possibly to increased support by the Quds Force, a unit of Iran's Islamic Revolutionary Guards Corps that handles operations outside Iranian borders. Over the past year, Houthis have used several of their longer-range drones, designated as "UAV-X" by the United Nations, with an estimated maximum range of between 1,200 and 1,500 kilometers, putting most of Saudi Arabia and the United Arab Emirates within striking distance. This drone model fits the mold of what could have been used in the pipeline attack. The successful attack demonstrates that the Houthis, or perhaps IRGC-trained personnel in Yemen, can use the longer-range drones in operations covering a range of nearly 1,000 kilometers. Previous attempts at launching longer-range missions with the UAV-X had not been as successful.
What is not clear is how many of the longer-range UAVs the Houthis have at their disposal. The UAV-X does not appear to be a variant of an Iranian-produced drone, and remnants of the vehicles recovered from previous failed missions reveal critical components of German and Chinese manufacture, suggesting that the Houthis may have a limited number that cannot be replenished as easily. Nevertheless, the attack showcases the potential effectiveness of long-range Houthi actions against soft targets like energy pipelines.
Connecting the Dots…
Although Iran has always denied a connection, it is well known that Yemen's Houthi rebels receive materiel and financial and political support from the Islamic republic. Houthi actions against Saudi Arabia are driven by their own goals of countering Saudi and U.S. actions in Yemen, where the group has long sought to establish a stronger political base. They cannot, then, be considered an Iranian proxy force in the same sense as Lebanon's Hezbollah, which takes more direction from Tehran. But the Houthis share an ideological tie with the Islamic republic, and for its part, Iran sees supporting the Houthi movement as a cost-effective way to needle its Gulf Arab adversaries -namely Saudi Arabia and the United Arab Emirates- that are embroiled in the anti-Houthi fight.
Possible Explanations…
With so many uncertainties, unconfirmed information and questions swirling about the connection between the oil tanker incidents and pipeline attack, four broad possible scenarios seem most likely:
IRGC Directed. Both attacks are part of a concerted move by the IRGC, which has its own command-and-control system outside the Iranian central government, against Gulf Arab assets. This could be motivated by an intent to send a message of deterrence, to signal resolve against intensifying U.S.-led pressure, or to demonstrate a willingness to inflict economic harm on the Gulf Cooperation Council states as well as on their military backer, the United States.
An Independent Action. Iranian-supported groups acting independently conducted these attacks without the express direction of the Iranian government or the IRGC. The Iranian presidency and foreign ministry have consistently espoused moderation in dealings with the United States even as tensions have risen between Washington and Tehran.
A False Flag. The incidents are false-flag operations conducted by U.S., Gulf Arab, or Israeli actors trying to create the conditions for moving militarily against Iran. While U.S. Secretary of State Mike Pompeo continues to insist the U.S. sanctions-driven pressure campaign against the Iranian government is not intended to provoke a war, some elements in Washington take a more hawkish stance.
A Coincidence. The incidents occurred coincidentally — or one was driven by Iran and the other was locally driven, and the timing was coincidental.
U.S. strategy on Eastern Mediterranean energy resources and routes
"Secretary Pompeo underlined U.S. support for the trilateral mechanism established by Israel, Greece and Cyprus, noting the importance of increased cooperation; to support energy independence and security; and to defend against external malign influences in the Eastern Mediterranean and the broader Middle East." was the official U.S. announcement for the recent Jerusalem's Trilatteral Summit.
Facing an unprecedented number of foreign policy flashpoints, the US risks being spread too thin to adequately address the challenges in the region and protect American interests alone. The US and Russia, respectively the world's largest and second-largest producers of natural gas, are both poised to play a vital role in brokering (and benefiting) from the coming "Eastern Mediterranean Big Game". The fact that Russia, through Gazprom, steadily increases gas exports to E.U. countries and the Balkans appears to have alarmed the U.S., which is attempting to reverse the status quo and enhance its presence in the European LNG market, putting an end to Moscow's tactic of using its natural gas exports to exercise economic and political influence in Europe (for more read: "Jerusalem's Trilateral: The Day After")
Important new developments, both geopolitical and practical, led to the renewed focus by Washington on energy development and security in the Eastern Mediterranean. Washington was impressed with the progress made in Trilateral Greece-Cyprus-Israel energy development and is eager to participate as a partner where possible. The U.S. has been very supportive due to its desire to counteract Russian gas to Europe, aiming to have American gas to Europe as well as other sources of gas to Europe, including East Mediterranean gas. At a strategic level, the proposed EastMed pipeline is an extremely important project that the United States strongly supports. It complements everything that it has been doing with the 3+1 meeting supporting the flourishing Greece-Israel relationship. The Israeli government too, seems determined to go ahead with this big project. (see more: "Why the U.S. participate in the Jerusalem's Trilateral")
In his book "Entangled Allies: U.S. Policy Toward Greece, Turkey, and Cyprus", former US Ambassador to Athens Monteagle Stearns wrote, "The interests of the US in the Eastern Mediterranean are basically military, and our ability to protect them depends on agreements for military facilities that we conclude from time to time with local governments." American strategy should consider the Eastern Mediterranean not as a European subregion, but rather the nexus of the Middle East, North Africa, and Southern Europe. Thus, its allotted military force there should reflect the aggregate security-environment demands of these three locales. It must also recognize the economic constraints faced by the Pentagon and operate with "economy of force."
First, the message to its closest allies in NATO couldn't be clearer: We are making European security a high priority, while still keeping "economy of force" in mind. This is classic "assurance of allies" -a theme emphasized in the U.S. National Security Strategy- at an affordable cost. Signaling U.S. support to NATO allies now will likely pay off in the future: It is precisely these allies to whom it is most likely to turn to for assistance down the road. Along with assurance, it also gains credibility and persuasiveness when asking its allies to spend more on defense in NATO forums.
Second, this low-cost Mediterranean force pays a triple dividend in that it responds to the strategic challenges faced by three geographical commanders: Central Command, African Command, and European Command. Finally, the Russians will see a powerful naval response, and not one necessarily aimed only at them. Most important, they will perceive that a security vacuum no longer exists in the Mediterranean.
Therefore, the recent Eastern Mediterranean Security and Energy Partnership Act of 2019, submitted to the US Congress by Senators Bob Menendez and Marco Rubio, would allow the U.S. to fully support the trilateral partnership of Israel, Greece, and Cyprus through energy and defense cooperation initiatives -including by lifting the embargo on arms transfers to the Republic of Cyprus. The legislation also seeks to update U.S. strategy in recognition of consequential changes in the Eastern Mediterranean, including the recent discovery of large natural gas fields, and a deterioration of Turkey's relationship with the United States and its regional partners.
The draft bill, which however has yet to be adopted by the US State Department, would: Lift the prohibition on arms sales to the Republic of Cyprus; Authorize the establishment of a United States-Eastern Mediterranean Energy Center to facilitate energy cooperation between the U.S., Israel, Greece, and Cyprus; Authorize $3,000,000 in Foreign Military Financing (FMF) assistance for Greece; Authorize $2,000,000 for International Military Education and Training (IMET) assistance for Greece and $2,000,000 for Cyprus. Impede the transfer of F-35 aircraft to Turkey, as long as Turkey continues with plans to purchase the S-400 air defense system from the Russian Federation, a purchase that would be sanctionable under U.S. law. Require the Administration to submit to Congress a strategy on enhanced security and energy cooperation with countries in the Eastern Mediterranean, as well as reports on malign activities by Russia and other countries in the region.
US-Turkey: Delicately poised allies
American strategic interests face challenges around the Eastern Mediterranean basin. The Shia-Sunni divide, that has helped put the Middle East in even deeper, turmoil is playing out on its shores with the involvement of both state and non-state stakeholders. Turkey -once a paragon of stability and a source of great optimism for many in the West- has become increasingly authoritarian and unreliable. President Recep Tayyip Erdogan's strong-arm leadership has turned a "zero problems with neighbors" foreign policy, into one where Ankara has zero neighbors with which it doesn't have problems. And two interlocking crises, one economic and the other involving migration, have roiled the European Union, starting with its member-states along the Mediterranean.
The Republic of Turkey has left behind its Kemalist, secular foundations in pursuit of Islamist, authoritarian governance. The Justice & Development Party (AKP), headed by President Recep Tayyip Erdogan, has alienated the US, Israel, and the EU and abandoned the country's pro-Western and NATO credentials. Given Ankara's increasing interference in the Middle East and eastern Mediterranean, it is necessary to build and strengthen a multilateral mechanism among the region's most affected states and "statelets" to contain it. The US is already providing major support to both the Kurds in Syria and the burgeoning "Axis of Antiquity" of Greece, Israel, and the Republic of Cyprus. The Kurds and the eastern Mediterranean coalition have a common interest in challenging Erdogan's hegemonic ambitions and protecting their sovereignty.
A coalition of this kind in the eastern Mediterranean and northern Levant would allow for greater US involvement in the region, which would help to ensure a successful outcome while shoring up the regional economy. This would contribute toward regional stability, wean Europe off "autocratic oil," and contain Ankara's neo-Ottoman aspirations in the region through purely defensive means. It would also foster "local multilateralism" without resorting to the bloated and ineffective approach of the EU, UN, and Arab League.
Washington has strongly urged Turkey repeatedly not to acquire the Russian S-400 air-defense system while, threatening to impede the transfer of F-35 stealth fighter, however Ankara seems not to yield under this pressing, althouth its defense industry is threatened with major setback, whether the F-35 deal doesn't materialize eventually, in the midst of a high economic recession and lira collapse, as well as political turmoil.
Members of Congress have tried a variety of approaches to convince Turkey to cancel the sale, including introducing legislation that would bar the federal government from spending any money to deliver any F-35 jets to Turkey. Senior Democrats and Republicans in the House of Representatives called on Turkey to cancel its planned acquisition of a Russian S-400 missile defense system, the latest effort by US lawmakers to discourage Ankara from pursuing the deal. They introduced a resolution urging Turkish President Tayyip Erdogan to avoid a military relationship with Russia that could jeopardize the US-Turkey partnership and Turkey's role in NATO.
To make matters worse, no one is mentioning one of NATO's strangest policies: the nuclear sharing program that keeps American nuclear bombs in Turkey and trains its air forces to use them. Thus at Incirlik Air Base, about 100 miles from the Syrian border, the United States stores some 20 to 80 B61 nuclear weapons for delivery by Turkish or American aircraft. There is not much comfort in knowing that these weapons are under direct American control in heavily guarded bunkers and are designed to be unusable without the proper codes. These weapons and the assigned aircraft are aging. The United States is currently updating the bombs and has designated the F-35 as the replacement aircraft for the F-16, the delivery aircraft for the NATO partners (except for Germany and Italy, which use the Tornado). Turkey, which is the bridge to the Middle East, is silent on the subject for the time being. Storing nuclear weapons close to trouble is maybe a bad idea. Giving Turkey a shared finger on the nuclear trigger is rapidly losing its charm especially as Turkey flirts with Russia and has growing grievances with the United States.
Turkey and hard truths in Syria
With clear words that reflect the true situation over the past five years and the true intentions of the Turkish President, the American former chief of the fight against the Islamist State (IS) appointed by President Obama and who served under the current President, Brett H. McGurk "unraveled" Turkey's plans in Syria. It should be noted that this is a person whose arrest had been demanded by members of Erdogan's AK Party .
More specifically, Turkey since the US demanded assistance in dealing with ISIS in Syria in 2014, showed reluctance and denial. He points out that President Obama has asked mr. Erdogan repeatedly to control his country's borders with Syria and to prevent ISIS moving to and from Syria via the Turkish border. Faced with this Turkish indifference, the United States decided to work with the Syrian Kurds, and in particular with the YPG organization, which had earlier defended the border Kurdish town of Kobani against the ISIS attacks launched by Turkey. Although according to the Americans, the YPG organization, which later evolved into the Arab-Kurdish military force SDF, had no direct relationship with the Kurdish PKK organization operating in Turkey, the US government received Turkey's protests for the SDF and has for some time limited its logistical support to the Arab-Kurdish military force.
At the same time, the US tried to convince the Turks to work together to liberate Al Raqqah from ISIS, building on the forces of the Free Syrian Army that are allies of Turkey. Ultimately, as the Americans appreciated, such a combined operation involving US and Turkish forces and the Syrian opposition would require the engagement of at least 20,000 US soldiers, leading the Trump administration to abandon the plan in May 2017. President Trump decided to liberate the city of Raqqah by strengthening SDF forces, providing them with the necessary equipment and supplies while enhancing the US forces on the Syrian border with Turkey, in order to prevent any possible invasion by the Turkish Armed Forces into northern Syria, which is primarily controlled by the Kurds.
And while all of what Brett H. McGurk mentions is pretty much common knowledge, the American former high-ranking officials reveal Erdogan's real plan for the wider area of the Fertile Crescent, Syria, and Iraq. According to Brett H. McGurk, the invasion of Turkey and its Islamic allies in the Kurdish Canton of Afrin had nothing to do with a real and immediate threat that the Kurds of this region may pose for Turkey, but with mr. Erdogan's ambitions to expand Turkey's borders into Syria and Iraq. According to him, the Treaty of Lausanne of 1923, has wronged Turkey on the territorial issue, since it severely restricted its area and set new and unfair terms. President Erdogan wants to correct this mistake, this "injustice" by exploiting opportunities like in the case of Afrin, to extend Turkey's border to what the Turkish president sees as the natural limit of his country.
According to Brett H. McGurk, he has personally heard mr. Erdogan say that Turkey needs a 400-mile "Security Zone" from the Aleppo area of northern Syria to Mosul of Iraq, the old Ottoman provinces in Syria and Iraq. As he points out, in 2016 Erdogan deployed military forces in Northern Iraq, in the Mosul area, without the permission of the official government of Baghdad, while new Turkish military forces did not deploy in other parts of Iraq due to the reaction of the United States .
The next step for mr. Erdogan, according to Brett H. McGurk, is the expansion of the "Turkish Security Zone" he has set up in Afrin along the border with Syria at a depth of 20 miles, namely the creation of a 650 km long belt, 32 km by displacing the Kurdish population from this region as he did in the case of Afrin, where 150,000 Kurds have left their homes. If the US let President Erdogan implement this project, Brett H. McGurk concludes, then the region would experience a new disaster with multiple consequences, since a Turkish invasion of northern Syria would result in displacement to the south and to Iraq of millions of Kurds, the dissolution of the SDF, the only credible, US-led military force in the region, and the creation of a vacuum that will be assaulted by extremist Islamic organizations such as ISIS.
Turkey's precarious stance in S.E. Mediterranean
At the same time, Ankara is realizing that almost all Eastern Mediterranean countries are acting in coordination in support of Nicosia on the issue of its Exclusive Economic Zone (EEZ). It strives to subverse the current status in the South East Mediterranean with high risk actions and statements, aiming to become a significant player in the planning of new energy routes in the region. In an apparent bid to entrench what it sees as its rights in the Aegean and the Eastern Mediterranean, it has reserved an area stretching south from the Aegean island of Rhodes to the western coast of Cyprus to explore for oil and gas. Ankara dispatched the "Fatih" drilling rig from its southern port of Antalya, with three support vessels and a frigate in the direction of a sea area 60 kilometers off the western coastal city of Paphos within Cyprus' continental shelf, in violation of island nation's sovereign rights, as well as the marine seismographic surveyship "Barbaros" south of Limassol, rising the tensions in the region.
At a press conference regarding foreign affairs, Turkish Foreign Minister Mevlut Cavusoglu revealed Ankara's true motives "Turkey can absolutely drill in its continental shelf," and emphasized that "…it does not mean that the Exclusive Economic Zone that one country declared without coming to an agreement with Turkey is valid. No communication is acceptable if it does not include us." He also proposed the transfer of the gas reserves of Cyprus through Turkey stressing that "Instead of speaking against Turkey, this issue must be resolved in its roots. Only then will the proper exploitation of the reserves around the island happen and they will be able to be transported to the international markets through Turkey."
Nonetheless, experienced observers have speculated that the absence of specialist crews and the requisite technical capabilities onboard the Turkish drillship are an indication that no substantial results should be expected from Ankara's exploratory activities, which have placed both Greece and Cyprus on edge. Bearing this in mind, Turkey's moves are seen more as a gradual effort to entrench its demands in the region and to test the resolve of parties with interests in Cyprus' EEZ, such the United States, Israel, Egypt, Greece, France and Italy.
Ankara's Aegean demands
Turkey has in recent months talked up the notion of the "Blue Homeland". This refers to a vast area expanding across half of the Eastern Mediterranean. It includes the continental shelves of Cyprus, Rhodes, Kastellorizo, Karpathos, Kassos and the eastern section of Crete. The Turkish proposal constitutes an evolution of Ankara's Aegean demands in the 1970s. "Fatih's" alleged exploratory activities take place southwest of an area where, according to Athens and Nicosia, the continental shelves of Greece and Cyprus meet. The point at which drilling will take place is considered to be an indication of Turkey clearly challenging the view of Athens and Nicosia that the Greek and Cypriot EEZs are adjacent.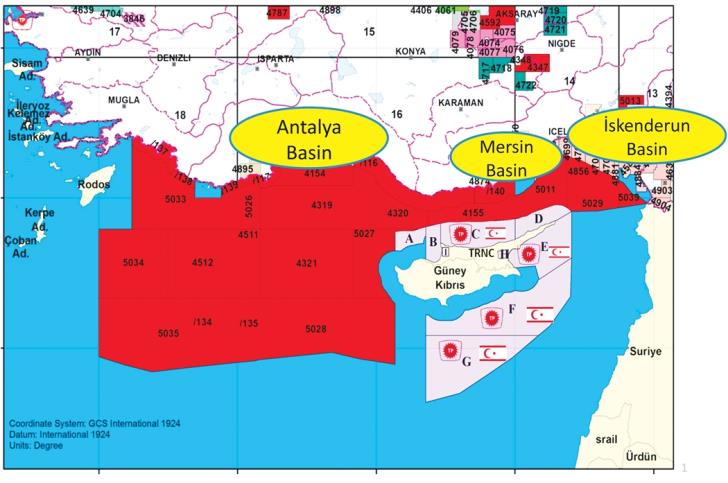 In the latest sign of Turkey's expansionist ambitions in the Eastern Mediterranean, representatives of foreign diplomatic missions in Ankara – including a Greek Embassy official – who were briefed about the country's plans for offshore drilling operations, were shown maps that violated the sovereign territory of Greece and Cyprus. During the briefing, which was delivered by Cagatay Erciyes, acting director general at the Turkish Foreign Ministry, it was alleged that Turkey's operations are held within the contours of its continental shelf and in areas where the breakaway state in the Turkish-occupied north of Cyprus has given state-run oil company Turk Petrolleri a license to operate. According to various sources, the presentation was met with skepticism from foreign diplomats, including Israeli and Egyptian officials. The breakaway state is only recognized by Ankara.
In the case of Greece, especially, what Ankara is effectively saying is that respective claims by Greece and Turkey will allow neither of the two states to develop potential finds. So instead of fighting against each other, the two should share out the benefits in the context of co-exploitation. Both countries, the argument goes, will be better off this way. Of course, should a co-exploitation deal of this sort be in place, there would be no need for delineating the continental shelf. This also explains Turkey's claims, which are out-of-line in terms of international law. Ankara wants co-exploitation/co-management. "Let's co-exploit (or co-manage) this entire area" – this is what mr. Erdogan means by "kazan-kazan." (see also: "Turkey is willing to set Eastern Mediterranean on fire. Why now and what lies next…")
China's growing interest in Middle East sets off U.S. alarm bells
China pledged $23 billion in loans and aid to Middle Eastern countries last year and signed another $28 billion in investment for infrastructure and construction projects. As Chinese influence and business spread across the region, however, U.S. officials, suspicious of Chinese geostrategic intentions, are becoming increasingly wary.
They have urged Israel to reverse a deal giving a Chinese firm operational control of the port at Haifa, where American warships frequently dock. Last month, U.S. President Donald Trump urged Israeli leader Benjamin Netanyahu to curb his country's warming bilateral ties with China, cautioning that otherwise U.S.-Israeli relations could suffer, according to American and Israeli officials. Earlier in the year, John Bolton, U.S. national security advisor, also raised Washington's worries with Netanyahu – and not just about Chinese management of the port at Haifa but also regarding israeli use of Chinese telecom technology, which they fear will be used for spying and data gathering. The U.S. Navy is considering switching its use of the port of Haifa, once the Shanghai International Port Group (SIPG) – a firm in which the Chinese government has high stakes – officially takes over in 2021. SIPG has been granted the port's management for 25 years and has committed to invest $2 billion to transform it. And U.S. Secretary of State Mike Pompeo, on a visit to Israel, told his hosts "…intelligence sharing might have to be reduced." He broadened out his warning about Chinese investment to other Middle East nations, saying, "We want to make sure that countries understand this and know the risks," he said.
The bulk of Chinese investment in the region is tied to Beijing's global trade and infrastructure program, informally known as the "New Silk Road" and formally as the Belt and Road Initiative (BRI), a scheme launched in 2015 to spur trade along land and sea routes linking Asia, Africa and the Mediterranean. A trillion-dollar trade, investment and infrastructure project, the BRI is Chinese President Xi Jinping's signature foreign policy project and China has already invested or loaned nearly $700 billion in more than 60 countries. Critics say the enormous investment project can easily be leveraged for political and geostrategic influence and countries taking loans are likely to be caught in debt traps, hence Washington's growing unease. China has signed the Belt and Road cooperation agreements with 17 Arab countries. Dozens of heads of Arab states recently converged on Beijing for the Belt and Road Forum, the second major international conference on China's initiative in under two years.
Beijing maintains the BRI is only about greater connectivity and trade and can help solve major international challenges. China's official news agency, Xinhua, says, "The initiative is a perfect example of China sharing its own wisdom and solutions for global growth and governance." Critics however, have noted that China is not shy about using trade and investment as a tool for statecraft and has in the past readily used commerce to extend its sphere of influence. U.S. policymakers fear that under the guise of the BRI, Beijing is also aiming to upset America's traditional alliances. They question whether Beijing's interests are purely economic. Two years ago, China opened a military base in Djibouti, its first ever overseas base, positioned at a key maritime choke point, the strait of Bab al-Mandeb. The U.S. military already has a base there located just kilometers away. It has been used for operations against jihadist groups like Islamic State and al-Qaida. Some U.S. officials see China's move into Djibouti as a sign of broader and possibly military ambitions.
Others see China's growing role in the region as mainly focused on securing energy resources and its thirst for oil. In recent years, the region has been the source of as much as half of China's imported oil. The BRI is expected to facilitate Chinese energy firms' delivery of even larger volumes from the region. The American Enterprise Institute recently argued in a paper that the Gulf Arab states have been eager to deepen ties with China, seeing it as its main "next-generation energy market" for oil and gas exports. The relationship is unlikely to be frictionless. Chinese and Arab interests could be at odds, too. China is also a competitor in some areas where Arab Gulf states are investing in infrastructure, ports and political outreach to secure new security partnerships, particularly in the Horn of Africa. Meanwhile, while African and even European states have been ready to accept large Chinese loans for infrastructure projects, raising fears they will be caught in debt traps, which can then be used for political leverage by Beijing, Arab states, even cash-strapped ones, have been far more cautious about accepting loans.