What everybody knows but refuse to admit? Has Turkey actually Out-Negotiated itself?
At a U.S. Air Force base in Arizona right now, Turkish Air Force pilots are learning how to fly American jets that may never be delivered to Turkey, and the Russian S-400s could be to blame.
Anastassios Tsiplacos - South East Med Energy & Defense Analyst
It is strange to imagine a NATO member not being trusted with Western defense equipment, although it's not the first time. It is also hard to imagine a NATO member making the conscious decision to compromise the backbone of the alliance's airpower. And yet, Turkey has made clear in front of the cameras, that it will absorb the political costs and put its own future jet programme at risk, to take ownership of the S-400. This has led to speculation that the purchase of the S-400 stems from a top-down political decision made between two men: President Recep Tayyip Erdogan and President Vladimir Putin.
Secretary of State Mike Pompeo declared last week that Washington had told Ankara it could face retribution for buying Russian S-400 missile defense systems, under a sanctions law known as Countering America's Adversaries Through Sanctions Act (CATSAA). As a result, the United States seems to be considering blocking the export of the F-35 to Turkey, whose air force is set to receive the first two jets in late 2019 at an airbase in Malatya. The U.S. and other NATO allies that own F-35s, fear the S-400 radar will learn how to spot and track the jet, making it less able to evade Russian weapons. Denying the aircraft to Turkey would undoubtedly help protect its secrets from potential Russian compromise, but would also signal to Turkey that it cannot be entrusted to safeguard Western defense equipment because of its friendship with Russia.
What led to Turkey's precarious decission
Considering the long history of Russian-Turkish conflict and competition, why would Turkey want to purchase S-400 missile defense systems from Russia and risk endangering its relationships with key allies? The answer lies in part in Turkey's precarious past relationship with the United States. Turkey joined NATO in 1952, as a critical component in the Western containment line. Following Turkey's 1974 invasion of Cyprus, which led to the establishment of the Turkish Republic of North Cyprus, the U.S. imposed an arms embargo against Turkey. Ankara responded by blocking U.S. access to military bases on Turkish territory. The key lesson for Turkey in all this, was that it could not depend on foreign countries to supply the arms it needed to defend itself. Since the 1980s, therefore, Turkey has made a concerted effort to develop its domestic military industry.
Moreover, Turkey still needs to import certain technologies so that it can develop and produce its own arms and defense systems, and in many cases the U.S. has been resistant to sharing its technology with the Turks. In 2013 and 2017, Turkey passed on offers to purchase U.S. Patriot air defense systems because they included minimal or no technology transfer. Turkey then decided to purchase the China-made HQ-9, in part because of its lower price, but also because of the technology transfer component of the deal, though the U.S. intervened and prevented Turkey from acquiring the Chinese systems.
In 2017, Erdogan and Putin met face-to-face eight times, leading to a mid-December announcement that an agreement had been reached on the S-400 and, eventually, the signing of a bilateral accord. Turkey signed the Russian S-400 agreement after turning down the second Patriot offer, even though according to some reports, the S-400s were Turkey's last choice when it initially took bids in 2008-10. Ankara has maintained that the agreement included arrangements for joint development, without going into any detail. Mr. Putin has reaffirmed a willingness to cooperate with Turkey on commercial ventures, but the head of Russia's state-owned Rostec, Sergey Chemezov, told reporters that the agreement does not include any technology transfer arrangements. For now, it appears that the only specific agreement details the financing terms and the delivery timeline, although Russian state-run news site Sputnik reported in January that Moscow had indeed promised Ankara both joint production and access to certain technology.
Turkey's concurrent talks with the United States are at a different stage. On December 2018, the Administration notified Congress of a proposed sale to Turkey of the Patriot air and missile defense system for an estimated cost of $3.5 billion, under the U.S. Foreign Military Sales program. In early January, the United States sent a delegation to Turkey, presenting a Letter of Offer and Acceptance (LOA), and to discuss the Patriot offer in full detail, followed by a second U.S. Army delegation to discuss the system's capabilities, giving Turkey a viable alternative to the S-400. The U.S.-Turkish talks do not appear to have focused on co-production and co-development agreements, though those talks are detailed and would take place only after Ankara officially selected the Patriot and contract negotiations begin.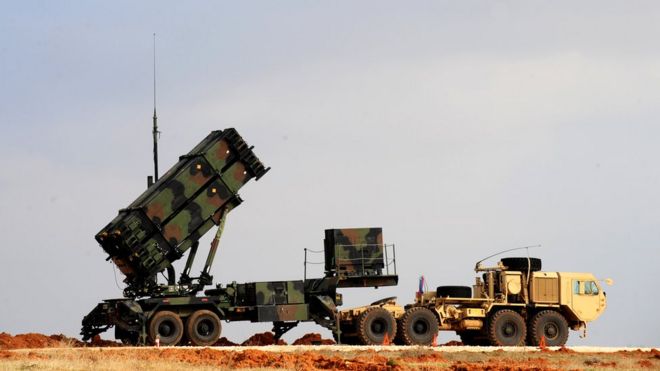 The American "carrots" are designed to entice Ankara to cease cooperation with Moscow and reach an agreement for the export of a long-range air defense system. From the outset of these talks, the United States has tried to meet the Turkish demand for the rapid delivery of a missile system. The U.S. initially offered to export the National Advanced Surface-to-Air Missile System (NASAMS), according to U.S. government officials in the executive and legislative branches. Ankara was not interested in NASAMS, so the talks shifted to Patriot and a rapid delivery timetable. To meet the deadline, the first two firing units included in this offer were to be an off-the-shelf purchase. After reaching the agreement on these two units, the two sides would use the time for the production and eventual delivery of Patriot to finalize the complicated offset arrangements that Ankara covets. This approach would prevent the imposition of U.S. sanctions and ensure that the F-35 gets delivered to Turkey.
Nevetheless, the Turkish government failed to reach agreement with the U.S. on financing. Meanwhile, mr. Erdogan declared "urbi et orbi" that the "deal is done" for the S-400 and that Ankara will explore cooperation with Russia on future air defense systems. It has become common in Turkey to claim that the United States has refused to sell the Patriot system or failed to seriously grapple with how to arrange for local industry participation. Actually, American industry and the U.S. government have been involved in on-and-off negotiations about Patriot with counterparts in Turkey for at least a decade. The back-and-forth about which side is to blame is ultimately irrelevant. Turkey has blamed the United States and Washington is struggling to understand why its NATO ally would purchase a Russian missile system that threatens its own fighter jets.
Are Turkish S-400s pose a real threat?
The Turkish government's decision to purchase the Russian-made S-400 surface-to-air missile system has prompted serious backlash in the United States. Beyond the current deep freeze in U.S.-Russian ties, some in the U.S. worry that Turkey's operation of the American F-35 aircraft in range of the S-400's powerful radar -which is reportedly capable of collecting electronic intelligence- will allow Russia to collect and exploit data about U.S. and NATO's future front line fighter (see more in: "Are we facing the end of U.S.-Turkey relations?").
Let's examine, however, whether the future Turkish air defense system is a real threat to the West and in what way. Firstly, from what it is known at the thime of writting, Turkey ordered only a battalion of S-400s, with an option for another, consisting of at least eight launchers with 32 missiles and a mobile command post. It is a question of what missile will be included eventually, because the 40N6 missile that reportedly has a range of 250 miles has not yet been fully incorporated in the Russian arsenal. It is most unlikely that at this early stage will be exported to a client who is strongy blackmailed by its NATO ally, and finally will maybe forced to reveal its secrets.
Whenever Turkey receives S-400s, reportedly next June or even earlier, in order to be fully operational against any aerial and/or missile threat, the system must be fully incorporated to the Turkish Air Defense System, which consists of various other surveilance, radar and A/A missile systems -most of them of western design and manufacture. This would entail that all the IFF (Identification Friend of Foe) codes of all the Turkish air fleet, with the help of an adequate interface, sould be loged in the russian Combat Control computers/software -which is the essence of the U.S. fears about F-35s software- something that strategically seems most unlikely at this stage.
There is, also, the past experience of Hellenic Air Force's S-300 system, which was hurriedly aquired from Cyprus -under Turkish threats of casus belli and U.S. guidance- and for many years were simply stored, until they were admitted for use, after the U.S. unlocked the proper technology in order to be able to cooperate with the rest of the Greek Air Defence System.
Finally, there are capable ECM systems that West and especially U.S.A. may apply with great percentages of success against any A/A missile system, as the Israeli and other Western Air Forces have proved during their last bombardments in Syria recently and Irak in the past.
All the above are common knowledge to all the interested parties, however they are either willing or compeled to continue the bargain in an effort of geostratigic influence and show of force.
Efforts to assuage U.S. concerns
Turkey has dismissed American concerns, telling that it will not allow Russian technicians to service the S-400 in Turkey, that it will design the missile's operating system to prevent built-in Russian backdoors, and that the system will not be "plugged in" to NATO networks. There is no possibility that Presedint Putin ignores these arguments, something that will certainly lead eventually to sell to Turkey a practically "naked" from advanced technology missile system, far from the "Triumph's" theoritical or even real capabilities.
However, according to U.S. officials in the legislative and executive branches, Ankara's reassurances have failed to assuage the concerns about sensitive information on the F-35 ending up in Russian hands. Indeed, it seems increasingly likely that Washington will block the transfer of the F-35s to Turkey, formalizing the temporary measures in two recently passed appropriation bills to freeze funding for the transfer. We saw, for example, that "official" Washington laid down its red lines in statements made by Vice President Mike Pence, Secretary of State Mike Pompeo, e.t.c. At the same time, however, we also read that a separate "son-in-law diplomacy" has been activated, as reflected in a photo of a meeting between U.S. President Donald Trump with Turkish Minister of Treasury and Finance Berat Albayrak, who is President Recep Tayyip Erdogan's son-in-law, and Trump's son-in-law Jared Kushner (see more in: "The Diplomacy of sons-in-law").
Simultaneaously, Defense Minister Hulusi Akar had been visiting Washington with a large Turkish delegation for talks which have in part focused on areas of discord between the NATO allies, chiefly the purchase of the Russian missile-defence system and the war in Syria. "The talks were very constructive and occurred with a very positive approach. We gladly observed that they understood many subjects much better and have got very close to our views on these subjects," Akar said of his meeting with U.S. Acting Defense Minister Shanahan, however he did not specify which subjects he was referring to.
Ankara has proposed to Washington that the two countries establish a technical committee under the NATO umbrella to determine whether the S-400s endanger the F-35 jets as the Americans argue, and is waiting to hear back from the United States. We are already hearing about a range of scenarios that could form the basis of a compromise. Turkey may eventually buy the S-400 missile systems but store them in Azerbaijan, or place them in Ankara and/or Istanbul in order to safeguard President Erdogan's palaces from another coup attempt! Thus, Turkey hopes, would allow mr. Erdogan to save face and the U.S. would be able to proceed with the delivery of the F-35s.
Is this another touph bargain?
It is very common for Turkey to bargain tough with allies and foes. Turkey may also be using the Russian deal as leverage to try to secure better terms with Washington on a Patriot agreement, as well as other issues i.e. Syria, the lira support e.t.c. The U.S. has shown in the past that is willing to negotiate; in December 2018, it came back with a counteroffer, after Turkey had already decided to purchase the S-400s, although Ankara said it rejected the American proposal. Additionaly, acting Defense Secretary Patrick Shanahan said earlier this month that he expects the impasse with Turkey over F-35s and Patriots to be resolved, an indication that negotiations are ongoing…
The Turkish decision to purchase the S-400 has baffled many in Washington and NATO members as well. Though the Turkish government has long-pursued long-range air and missile defense, it has always prioritized the transfer of technology and work share arrangements to ensure robust local industrial participation. Russia has not reached any substantive agreement with the Turkish government on any of these criteria. Still, the S-400s are expected to be delivered this July or earlier.
Moreover, Ankara has indicated that it intends to begin phasing out in 2023 the F-16 jet fighters -currently the backbone of the Turkish Air Force- and start the transition to the F-35. On the other hand, the U.S. has threatened to block Turkey from purchasing F-35 fighter jets and participating in their production if it goes through with the S-400 deal. If the F-35 deal falls apart, however, Turkey could be forced to rely on the F-16 for much longer than initially planned, having to cope with U.S. sanctions to its spareparts supply too…
This may impede cooperation between the U.S. and Turkey on some levels, it is most ulikely however with a grave economic recession at hand, that would eventually reflect a strategic shift towards Russia, yet. It's entirely possible that this is simply an example of a middle power trying to play bigger powers off each other to get the best possible deal and, as of today, shouldn't be interpreted as anything more. Even if Turkey doesn't get everything it wants, at least it'll get something eventually…