What lies beneath U.S.-Turkey showdown
The standoff between Washington and Ankara regarding the delivery of the F-35 fighter jets could bring ties between the two NATO allies to boiling point, unless a compromise is reached.
Anastassios Tsiplacos - South East Med Energy & Defense Analyst
Turkish President Recep Tayyip Erodgan was in Moscow, early April, for talks with his Russian counterpart Vladimir Putin that included an agreement for the delivery of Russia's S-400 air defense system to Turkey, a move that is staunchly opposed by Washington. It was Erdogan's third visit to Russia this year, underlining the increasingly close ties between the two countries, as well as Ankara's readiness to defy the United States, which is holding back delivery of a consignment of American-built F-35 fighter jets ordered by NATO ally Turkey.
"Those who make recommendations to us to cancel the deal do not know us well. We signed an agreement, and no one can ask us to cancel it. It is our sovereign right, as we are independent and the sovereignty is that of the people", Recep Tayyip Erdogan has repeatedly said, essentially excluding any possibility of canceling or postponing the S-400 order. "Our approach to our defense cooperation with Russia covers a broad range of issues including the reciprocal purchase of military equipment and joint production. The defense industry represents, and will continue to represent, an important part of our bilateral relations," Turkish Presidency Communications Director Fahrettin Altun added.
As an immediate answer, U.S. Secretary of State Mike Pompeo stated that if NATO ally Turkey acquires the Russian S-400 air defense system, it will not receive the F-35 fighter jet, and he left the door open for sanctions. "I have communicated that to them both privately, and I will do so again right here," mr. Pompeo told the Senate Foreign Relations Committee. When he was pressed on whether the $2.5 billion F-35 sale would meet the "significant transaction" threshold to trigger the 2017 Countering America's Adversaries Through Sanctions Act, he suggested the answer was "yes" but stopped short. "If I can avoid making a legal conclusion, that's a very significant transaction," mr. Pompeo added.
On the other hand, Turkish Foreign Minister Mevlut Cavusoglu sought to play down concerns in Washington that the S-400s are not compatible with NATO systems. It makes no sense to question Turkey's NATO membership over its decision to purchase Russian S-400 missile defense systems he has said, adding that other members of the transatlantic alliance have already installed Russian S-300. These comments came the same day a group of U.S. lawmakers threatened to pass legislation that would bar Turkey from buying the F-35 if it buys the S-400, expressing fears their integration would enable Russia to learn how the stealthy F-35 operates. The Turkish minister also warned that Ankara may have to look for alternatives, purchasing more S-400s or alternative systems, if it does not receive the Lockheed Martin F-35 stealth fighters.
Following suit, a bipartisan legislation, the "Eastern Mediterranean Security and Energy Partnership Act of 2019", was submitted in order to impede the transfer of F-35 aircraft to Turkey, as long as Turkey continues with plans to purchase the S-400 air defense system from the Russian Federation, a purchase that would be sanctionable under U.S. law. Furthermore, it requires the Administration to submit to Congress a strategy on enhanced security and energy cooperation with countries in the Eastern Mediterranean, as well as reports on malign activities by Russia and other countries in the region.
The ongoing natural gas discoveries in the Levantine Basin, may provide the U.S. with not only business opportunities but also energy security. Washington demands that its partners maintain a diversification policy. The more Western countries import from what America sees as safe sources, such as the basin, the more they will reduce their dependency on Russia. These discoveries in the Eastern Mediterranean are hampered, however, by Turkey's aggressive policy. It is not unusual for Ankara either to organize military exercises in the Exclusive Economic Zone of Cyprus or to disrupt drilling operations of foreign companies, such as Italy's ENI in the spring of 2018. That is why mr. Pompeo's recent presence in Jerusalem's Trilateral held special meaning. The initial agreement on the potential construction of the EastMed pipeline frustrates Ankara because Turkey will be excluded from the proposed corridor. The status of Turkey and its regional role has long been the unresolved question, and the rapid deterioration of Turkey's relationship with Israel opened the door for the current trilateral formulation.
There is consensus in Washington that it is no longer possible to take Turkey's Western foreign policy orientation for granted. The decision by President Erdogan to buy S-400 missiles from Russia supports this reassessment. For the time being, Erdogan is insisting that Turkey will proceed with the purchase and defy American pressure. US support for the EastMed pipeline can function as a warning to Ankara to normalize its behavior. Until now, Washington has sought to use behind-the-scenes diplomacy to resolve the dispute over the S-400s issue. Observers suggest mr. Pompeo's recent public statement over the turkish F-35s issue indicates the adoption of a more confrontational strategy. No one would imagine some years earlier that matters would reach today's deadlock.
How U.S.-Turkey relations evolved
U.S.-Turkish friendship dates back to the late 18th century and was officially sealed by a treaty in 1830. The post WWII close relationship began with the agreement of July 12 1947, which implemented the Truman Doctrine, as well as the 1952 acceptance of Turkey to NATO. As part of the cooperative effort to further Turkish economic and military self-reliance, the United States has loaned and granted Turkey more than $12.5 billion in economic aid and more than $14 billion in military assistance. These relations focused on areas such as strategic energy cooperation, trade and investment, security ties, regional stability, counterterrorism, and human rights progress. Aside from Israel, the United States has had no better friend in the Middle East than Turkey, a staunch Cold War ally and a Muslim democracy that could serve as a model for its authoritarian neighbors.
Although the two states had their ups and downs since the end of the Cold War, the relationship which was sustained by cooperation on Iraq, during and after the first Gulf War, gradualy evaporated. Cold War certainties had disappeared. It was the war against Saddam Hussein that revealed the dramatic change. Relations between the United States and Turkey hit a low point in 2003 when Ankara refused to host U.S. troops for the invasion of neighbouring Iraq. To the anger and surprise of the U.S. government, Turkey refused to allow U.S. forces attack Iraq from its territory. It allowed however, the use of Incirlik NATO Air Base for the transport of non-lethal cargo in support of Operation Enduring Freedom and Operation Iraqi Freedom.
When Turkey decided to stay out of the 2003 Iraq war, it was acting, as nations do, in its own interest. Turkish public opinion was overwhelmingly against the war. This forced a last-minute shift in U.S. strategy. U.S. Deputy Secretary of Defense Paul Wolfowitz said Turkey should apologize for this lapse and its military should show more leadership. Turkey was angry in turn. There was muttering that Americans might be encouraging a military coup. Tensions were heightened when U.S. troops arrested eleven Turkish soldiers, said to be plotting against Kurdish leaders in northern Iraq. They were eventually released and tempers have cooled, but U.S.-Turkish relations did not thaw.
Turkey, above all, was concerned with postwar Iraq. It feared that if the Kurds in northern Iraq achieved considerable autonomy or even independence, they could re-ignite the Kurdish rebellion in southeastern Turkey. Starting in 2004, after several years of a cease-fire, the Kurdistan Workers Party (PKK) terrorists once again began attacking Turkish soldiers and civilians, both from its safehaven in northern Iraq and from insideTurkey. Ankara was frustrated by what it perceived as American hesitation, concerning its plight in a struggle that had cost more than 30,000 Turkish lives over the past few decades. The result of these differences was that the Turkish public, according to the 2007 and 2008 "Pew Global Attitudes Surveys", had the lowest favorable opinion of the United States out of all the countries that were surveyed.
Frequent statements that U.S. and Turkey share the same objectives in Iraq, were simply papering over a bigger problem. Turkey in Washington's view had no place at the "table", and furthermore, there was no "table". The United States was presiding entirely on its own over the future disposition of Iraq. So from Washington's point of view, Turkey was nothing except a nuisance factor and potentially even more risky than that, while found the Kurdish region to be the least problematic of any region in the country.
"Dancing" with Erdogan
Nevertheless, the U.S. administration recognizing the importance of the NATO eastern ally, on July 5 2006 Secretary of State Condoleezza Rice and Foreign Minister Abdullah Gul signed a "Shared Vision Statement" to highlight the common values and goals between the two countries and to lay out a new framework for increased strategic dialogue. President George W. Bush jr. welcomed Prime Minister Erdogan to Washington for a White House visit on November 5 2007, during which he committed to provide greater assistance to Turkey in its fight against terrorism from the Kurdistan Workers' Party (PKK or Kongra Gel), which he characterized as a "common enemy" of Turkey, Iraq, and the United States. He reiterated this commitment during President Gul's January 8 2008, White House visit.
The next President Barack Obama, after just three months in the White House, paid a historic visit to Turkey April 5-7 2009, as the first bilateral visit of his presidency. During the visit, he spoke before the Turkish Parliament and outlined his vision of a model U.S.-Turkish partnership based on mutual interests and mutual respect. Secretary of State Hillary Clinton had also prioritized the U.S.-Turkey relationship, and included a stop in Turkey on her first European trip, visiting Ankara on March 7 2009. On December 7 2009, Prime Minister Erdogan met with President Obama at the White House. During this visit, the U.S. and Turkey launched the "Framework for Strategic Economic and Commercial Cooperation", a new cabinet-level initiative focused on boosting trade and investment ties. In addition to the new framework, the U.S. and Turkey hold annual meetings of the Trade and Investment Framework Agreement (TIFA) Council, which met in Turkey in January 2009, and Economic Partnership Commission, which last convened in Washington in April 2008. Turkish exports to the U.S. totaled about $4.3 billion, in 2008, and U.S. exports to Turkey totaled $11.9 billion.
In late 2012 however, the deepening crisis over Gaza strained again Turkish-U.S. relations, with Ankara calling on Washington to rein in Israel. Turkish Prime Minister Recep Tayyip Erdogan launched a strong attack against Israel for its ongoing military operation in Gaza. U.S. President Barack Obama strongly defended Israel, citing its right to self-defense. Since 2013, the relations between the two have worsened. There were mainly three reasons causing this:
1.The June uprising in 2013 in Turkey: This was a mass popular uprising against Erdogan over the elimination of press freedoms. Tweets by the U.S. Embassy supporting prosecuted academics and journalists made Ambassador John Bass a "persona non gratta" figure among Turkish hardliners.
2. The developments in Syria: The project of regime change, which was based on Erdogan's dream in Syria, collapsed. Whereas rooting out Islamic State (IS) militants in Syria and Iraq was Washington's priority, Erdogan appeared more keen to topple Syrian strongman Bashar al-Assad. The Turkish government in 2010 was enthusiastically courting Syria's favor and was arguably one of its closest friends. However, along with the Arab League, Turkish policy changed in 2011. Very sensitive to the burden of a refugee crisis, Turkey opened its borders to Syrians who were forced to flee. Ankara effectively supported the Syrian opposition by allowing them to organize in Istanbul and provided them with guidance and know-how.
Following her February 2012 meeting with Turkish Foreign Minister Ahmet Davutoglu, U.S. Secretary of State Hillary Clinton had said: "Turkey, is one of the leaders and has much at stake, being a neighbor and a nation of conscience that understands the suffering of the Syrian people and serves as an example of an alternative to the brutal Assad regime." U.S. Secretary of State John Kerry stated accordingly on March 28th, 2016: "Turkey is an important partner with the United States … It is a NATO ally. It has joined together with Europe and NATO now in an effort to try to stem the tide of migrants flowing through the Aegean. And Turkey is host to 2.7 million refugees who have flown out of Syria and the surrounding area seeking a better life. That's an enormous cost and we respect the fact that Turkey is trying to manage the lives of these refugees."
3. The ambiguous U.S. policy over the Turkey-Kurds controversy: Kurdish nationalist sentiment is strong in Turkey, which is home to an estimated 12 million Kurds. Turkey has the Incirlik NATO Air Base, however the Kurds are the boots on the ground in the war against Islamic State, and the U.S. needs both. Mr. Erdogan's violent military crackdown on Kurdish communities in the country's southeast is a source of deep disagreement. While the United States has consistently maintained, in the past, that there should be no separate Kurdish state and has listed the PKK on its list of terror groups, tensions between the two states were high following Ankara's attacks on Kurdish militants, some of whom are seen by Washington as a key ally in the fight against IS in Iraq and northern Syria.
By late 2014, relations with the West were strained again and Turkey initially did not allow coalition planes to use Turkish airspace for attacks against the Islamic State militants in Iraq. The Turkish government faced growing pressure from Washington amid allegations that it provided tacit support for the militants. Ankara was accused of turning a blind eye to the Islamic States recruitment efforts in Turkey, as well as illegal collaboration and smuggling IS' oil through Turkey and many more.
The 2016 failed coup: The turning point
The U.S.-Turkey partnership was based on mutual interests and mutual respect and was focused on areas such as regional security and stability, as well as economic cooperation. Turkey's Grand National Assembly and the U.S. Congress also enjoyed vibrant relations, nurtured by high level visits every year and with mutual friendship groups consisting of large numbers of parliamentarians in both countries. The United States also standed in solidarity with Turkey in the fight against terrorism. Counterterrorism cooperation was a key element of the strategic partnership. The two countries held regular consultations at both political and technical level to harmonize their priorities and actions. For decades, intermittent differences of views and opinions have not affected the sound texture of the relationship, despite its multi-layered nature, consisting of many complex regions and issues.
After the failed coup in 2016, Turkish President Recep Tayyip Erdogan hoped the U.S. would quickly spirit his archenemy, Fethullah Gulen out of his self-imposed exile in Saylorsburg Pennsylvania, to stand trial in Turkey, but was sorely disappointed. Erdogan accused Gulen, a Turkish cleric and former political ally with whom he had a falling out in 2013, of engineering the 15 July 2016 coup attempt, and trying to have Erdogan assassinated as part of the plot.
Gulen's extradition request would be adjudicated under a 1979 treaty between the U.S. and Turkey, one of more than 100 the U.S. had signed with other countries. Among other requirements, the treaty spells out the content of the formal request and the channel through which it is communicated. In the case of Gulen -someone who has been accused of a crime but not convicted- it calls for an arrest warrant; a statement of facts of the case; evidence that the offense, though allegedly committed in Turkey, is prosecutable in the US; and the text of the law under which the accused would be tried. But then again, whatever the final court verdict, the extradition would ultimately be decided by the Secretary of State…
The challenge for mr. Erdogan and his colleagues was to chart a course through the emotions engendered by the coup attempt. The choir around him was attempting to undermine relations with the United States with fantastic conspiracy theories. Mr. Erdogan fueled these by suggesting that the U.S. may have supported the coup; in effect this is all the Turkish public needs. Just about everyone today believes in U.S. complicity. This is how the serious downfall of the relationship started. Ever since, the relations between the two states had strong ups and downs repeatedly, however U.S.-Turkish relations underwend a rough patch from which nowadays seems maybe impossible to recover.
After meetings in 2017 at the White House, President Donald Trump and his Turkish counterpart Recep Tayyip Erdogan, in an effort of reconciliation, praised the strength of the two countries' relations, while at the same time sidestepping their differences over strategies for confronting Islamic State extremists in northern Syria. Both messrs. Trump and Erdogan described bilateral ties as strong. However, neither leader mentioned mr. Trump's decision to supply heavy weapons to Syrian Kurdish rebel militias, the YPG, who made up a key part of a U.S.-backed alliance preparing the march to the Islamic State's de-facto capital, Raqqa. Mr. Erdogan has argued that YPG's ties to the Kurdistan Workers' Party made it likely that any U.S. weaponry supplied to the Syrian Kurds would eventually end up in Turkey, in the hands of the outlawed PKK.
Crisis broke out again in October 2017, when U.S. Ambassador in Ankara John Bass announced a temporary halt to all nonimmigrant visa applications after Turkish authorities arrested a local staff member of the U.S. diplomatic mission. Turkey retaliated by announcing its own suspension of visa services in the United States. The United States said it was "very disappointed" by the Turkish government's arrest of two local staffers of the American Consulate, as diplomatic tensions between the two countries ramp up following the bilateral suspension of all nonimmigrant visa services. On top of all this, the continued imprisonment of U.S. pastor Andrew Brunson, together with the US sanctions on Iran, a major oil and gas supplier to Turkey, weighed heavily on relations between the United States and Turkey, leading to a series of escalation.
Ηas Turkey gone rogue? Tensions rise amid warnings of a rupture…
In a sign of Washington's patience running out with Ankara, a new crisis is looming. During recent talks with his Turkish counterpart, mr. Pompeo called for "…the swift resolution of cases involving unjustly detained U.S. citizens, including Serkan Golge, as well as our local staff from the U.S. Mission in Turkey." Golge, along with three local diplomatic employees, are jailed on accusations of links to terrorist organizations including conspirators blamed by Ankara for a failed 2016 coup.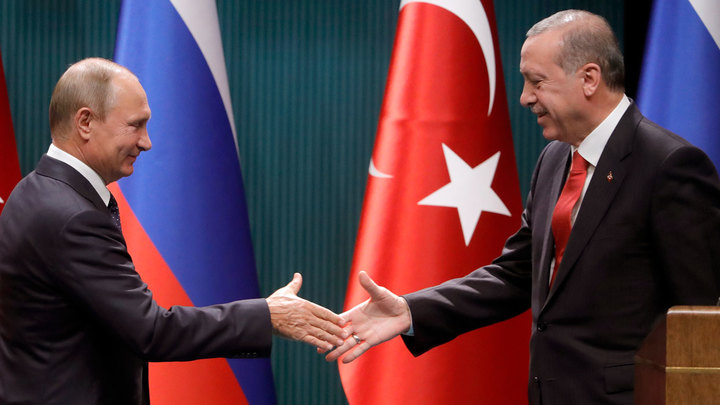 The July 15th failed coup had opened a Pandora's Box; the relationship has been transformed and the "old rules" no longer apply. Obviously U.S.-Turkish relations are in turbulence even after. More than once mr. Erdogan has declared that: "The United States has repeatedly and consistently failed to understand and respect the Turkish people's concerns. Unless it starts respecting Turkey's sovereignty and proves that it understands the dangers that our nation faces, our partnership could be in jeopardy." Turkey's strategic orientation and foreign policy are alarming to the U.S. Its dealings with Russia, cooperation with Iran, solidarity with Venezuela, readiness to improve relations with China, and threats against U.S. allies in Syria have rattled U.S. foreign policy and defense establishment. Turkey's support for Islamism and close cooperation with Iran are further causes for concern. More than a few are claiming that Turkey is an uncertain ally. Today the general consensus is that Turkey is a strategic adversary and potentially dangerous.
The recent threat of a showdown comes due to the growing disagreement between Washington and Ankara over Turkey's procurement of Russia's S-400 missile system. U.S. officials say the missiles will compromise NATO weapons systems. "Turkey must choose. Does it want to remain a critical partner in the most successful military alliance in history, or does it want to risk the security of that partnership by making such reckless decisions that undermine our alliance?", U.S. Vice President Mike Pence said in comments at a NATO event in Washington (see more in: "Banning Turkey out of NATO?").
Turkish Vice President Fuat Oktay promptly answered warning the United States of the danger of a rupture in relations, as myriad differences between the two NATO allies escalate tensions. "The United States must choose. Does it want to remain Turkey's ally or risk our friendship by joining forces with terrorists (YPG) to undermine its NATO ally's defense against its enemies?" Oktay tweeted. Moreover, mr. Cavusoglu, at the same NATO event stated: "The purchase from Russia is a done deal. We are not choosing between Russia and any other allies. We don't see our relations with Russia as an alternative to our relations with others. Moreover, nobody, neither the West nor Russia, should or can ask us to choose." In a last effort of reconciliation Washington is offering Turkey the Patriot missile system. Ankara has indicated a willingness to buy the system, but not as an alternative to the Russian S-400s.
The dispute is part of broader concerns among Turkey's Western allies, over mr. Erdogan's deepening fluctuating relationship with Russian President Vladimir Putin. He endorses the former's defense and energy aspirations, while playing "cat and mouse" games in the region, in an ultimate goal of luring Turkey away from NATO creating a big crack in it's eastern frontier, which eventually leave a free field for Russian geostrategic reign.
The recently submitted U.S. bipartisan legislation targets Turkish President Recep Tayyip Erdogan's decision-making calculus, emphasizing economic costs if Turkey loses co-production of the Lockheed Martin-made F-35 and geopolitical costs if Erdogan steps toward Moscow and away from NATO. At the same time, U.S. lawmakers commit to "…do all we can to assist Turkey" if Erdogan walks away from the S-400 and if Russian President Vladimir Putin retaliates in economic sectors where Ankara relies on Moscow, adding: "Mr. Putin fears and respects a Turkey strategically anchored in the West and committed to NATO…We hope President Erdogan will choose that future for Turkey by rejecting Mr. Putin's divisive S-400 ploy, meeting its air defense requirement with the Patriot system and moving forward as a critical partner in the F-35 program."
"It's the Economy Stupid"!
The U.S. policy of hunkering down and trying to quietly manage the relationship in the hope that Turkey would return to its "factory settings" has proved rather folly. In the last "episode" of the S-400s confrontation, the U.S. government is employing a combination of carrots and sticks to dissuade Turkey from buying the russian anti-aircraft system. In 2017 the Pentagon offered Patriot missiles at a low cost. However, Turkish President Tayyip Erdogan missed the March 31st deadline to purchase the Patriots. In a further concession, the Trump administration issued a waiver for Turkey to buy oil from Iran, seemingly to no avail.
If Turkey accepts the S-400, the bipartisan leaders of the Senate Armed Services Committee and Senate Foreign Relations Committee warn: "…no F-35s will ever reach Turkish soil. And Turkish participation in the F-35 program, including manufacturing parts, repairing and servicing the fighters, will be terminated, taking Turkish companies out of the manufacturing and supply chain for the program. We are committed to taking all necessary legislative action to ensure this is the case. Turkey is an important partner in the F-35 program, but it is not irreplaceable." Moreover, they acknowledge that U.S. air dominance hinges on the F-35 "…the world's largest 5th generation fighter aircraft program, with more than a trillion dollars in investment from a dozen international partners, including Turkey." However, the jet's integration with the S-400 "…could enable the Russian military to figure out how the F-35 operates… With the S-400 scheduled to arrive in Turkey in July and the F-35s scheduled to arrive in November, it is time for President Erdogan to choose."
According to the senators, among the "severe consequences" if Turkey abandons (or is forced to abandon) the F-35 program, its $1.25 billion-plus investment "will be squandered" and "…it will not receive the more than 100 F-35s it planned to purchase, and it will be forced to settle for a less-capable fighter aircraft that will not arrive for many years… Turkish companies that produce parts for the F-35 will see their orders dry up completely. Its engine maintenance, repair, overhaul, and upgrade facility will see all its work go to other facilities in Europe… President Erdogan's hope to make the Turkish defense industry a key pillar of economic growth for the future will be dashed… Turkey will be sanctioned as required by United States law under the Countering America's Adversaries Through Sanctions Act. Sanctions will hit Turkey's economy hard, rattling international markets, scaring away foreign direct investment and crippling Turkey's aerospace and defense industry."
Beyond suspending the transfer of F-35 fighter jets, the United States is considering other aspects of security cooperation. Incirlik Air Force Base in southern Turkey is the symbolic and logistical hub of U.S. and NATO military operations in Turkey. Since 1991, it has been critical for supplying military missions in Iraq and Afghanistan. Incirlik, however, comes with a political cost. Turkey uses it to coerce concessions. It regularly threatens to cancel the six-month lease agreement, while reserving the right to expel U.S. forces with 72-hours notice. Turkey denied U.S. warplanes access to Incirlik for nearly a year, when Incirlik was badly needed as a staging ground for fighting Islamic State in Iraq and Syria. Nevertheless, Incirlik is not indispensable. Alternative leasing arrangements are available in Jordan, Greece, and Romania. Multilateral measures are also possible. The Pentagon operates an International Military Education and Training (IMET) Program for Turkish officers at a cost of up to $5 million each year, which may be cancelled. The United States may also encourage NATO allies, France and Italy, to suspend the sell of a long-range air defence system being developed by a Franco-Italian consortium, Eurosam.
Washington may also work with other countries to limit financing for Turkey from the International Finance Corporation (IFC) and the European Bank for Reconstruction and Development (EBRD). For start, the United States imposed extraordinary steel tariffs on Turkey in response to the long continuation of arrest of American pastor Andrew Brunson. Eventually he was released, but the tariffs may remain until other Americans are also freed. Moreover, the Trump administration recently found that Turkey is no longer a developing country, revoking preferential trade treatment for Turkish goods and services. The "finding" has a big impact on Turkish textiles exported to the United States. Though Erdogan strongly objected, Washington may not reinstate Turkey's designation as a developing country.
Many voices say that further measures against Turkey are now looming and that the currency, the lira, could ultimately be the most significant casualty of any U.S.-Turkish showdown. The lira is vulnerable, following last year's collapse triggered by mr. Trump hitting Ankara with sanctions over the detention in Turkey of the American pastor. Growing financial concerns about the Turkish economy saw Turkey's Central Bank forced to use unprecedented measures to support the currency recently to quell heavy lira falls. The currency declines were triggered by local Turks converting savings to foreign currency, along with international investors exiting the market amid economic concerns.
Last but not least, the U.S. State Department raised the travel advisory level for Turkey to 3 last week, urging Americans to "…reconsider travel to Turkey due to terrorism and arbitrary detentions." In its latest travel update, dated April 9, the U.S. warns travelers to avoid areas near the Syria and Iraq borders due to terrorism and kidnapping. It also warned of terrorist attacks in tourist locations, transportation hubs and other public areas. The advisory is one grade lower that the "Do not travel" level.
Mr. Erdogan's dilemmas…
Turkey is plunging into a deep crisis. It's impossible to predict what shape the country will be in a few months from now. There's simply no overarching plan. If there is one, it remains locked inside the brain of a single man whose sole objective is to keep himself -and, after he's out, his family- in power. Ad infinitum…
The latest political defeat in the Regional Elections, losing the main urban centres, mainly tarnished the Turkish President's political image and ego, far from being a major political loss. Nevertheless, all the major analysts in Europe and the United States agree that Turkish President Recep Tayyip Erdogan will be faced with two major crises by autumn. The first will be an economic crisis. The country's private sector is estimated to have up to $300 billion in debt. Most of this debt is in foreign currencies and about half of it must be paid off by the end of the summer. Most Turkey analysts deem that Ankara will either have to resort to the International Monetary Fund (IMF) for a loan of $150 billion or so, or follow the path of Venezuela.
Surely, mr. Erdogan could always change his policy to pre-empt the worst-case scenario, but this does not appear to be a political possibility. Turkey needs a lot of funds, and support from Russia and Qatar will simply not be enough. And we are talking here about a country that still needs to import onions and flour. The Turkish strongman obviously does not want to turn to the IMF, as this would mark the end of his narrative. It would make him look like a leader who turns to the West to ask for money, when he has been styling himself as the leader of a mid-range superpower that can snub the European Union and the United States.
As the economic crisis escalates, the Turkish President will have to face yet another dilemma: should he turn to Russia and purchase the S-400 missile defense systems or proceed with the supply of the Lockheed Martin F-35 fighter jets and preserve ties with the U.S. and NATO? Washington had until now failed to send a clear signal on this. This, however, is starting to change as recent comments by U.S. Vice President Mike Pence and other senior officials indicate. Congress has started to play a very important role in foreign policymaking and takes the issue very seriously. Even at the Pentagon, an increasing number of officials are starting to believe that Turkey's current relationship status with NATO is unsustainable.
In their view, U.S. policymakers until recently made the mistake of not sending clear signals to Ankara and because they relied more on the carrot than the stick. Even more, they say Ankara's steadfastness against growing Washington pressure stems from a belief that mr. Trump does share concerns over Turkey. "Ankara is still not convinced that Washington is serious in its threats. More specifically, it suspects, as transpired several times in the past, the threats and warnings don't reflect Trump's viewpoint." Another American analyst, however, with deep knowledge of Turkey said recently: "President Erdogan barks a lot, but when someone shows his teeth, he usually stops."
One thing is sure: U.S.-Turkey ties are near a rupture and will be seriously tested in the coming months….