Why France classes with Turkey over Libya and departs from "Sea Guardian"
France sent a letter to NATO informing the Alliance that it is suspending its involvement in naval operation "Sea Guardian" in the Mediterranean, after the results of an investigation into an incident between French and Turkish warships.
Anastassios Tsiplacos - Managing Editor
France has been especially agitated after accusing Turkish warships of being aggressive towards its La Fayette-class frigate "Courbet", after it tried to inspect a vessel in June that it suspected was violating a United Nations arms embargo on Libya. The "Courbet" was operating in the NATO "Sea Guardian" operation. The French Ministry of Armed Forces accused the Turkish Navy of harassing the French warship.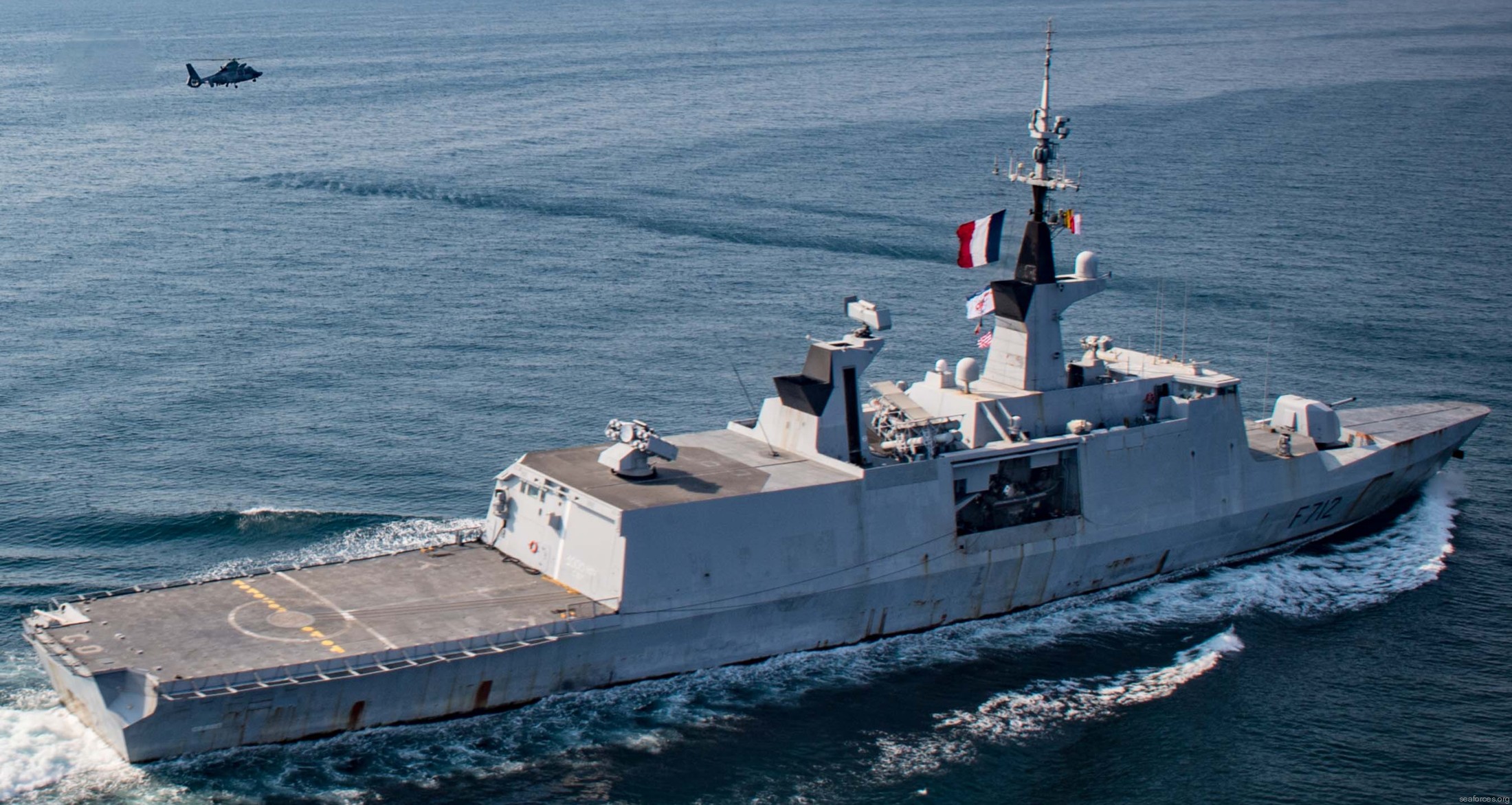 NATO opened an investigation after France protested during a meeting of alliance defence ministers in June.
An official from the French Armed Forces Ministry said a letter had been sent to NATO on Tuesday outlining four demands: a reaffirmation by alliance members of their commitment to respecting the embargo, ensuring NATO call signals were not used by countries during national missions, better coordination between NATO and EU missions enforcing the embargo and putting in place mechanisms to avoid similar incidents in the future.
"While waiting to move ahead on these demands, we have decided to temporarily withdraw our assets from Operation Sea Guardian," the official said. "It doesn't make sense to keep our assets … with allies who do not respect the embargo."
A same incident, occured few weeks ago when the Hellenic Navy's MEKO200HN-class frigate "Spetsai", which was monitoring the movements of a Tanzanian-flagged Turkish ship suspected of carrying military equipment, sailing southwest of Crete in the direction of northwest of Benghazi, accompanied by three Turkish frigates. "Spetsai" sent its Sikorsky S-70B helicopter to fly over the suspicious cargo ship and requested the crew's cooperation to a VBSS (Vessel Boarding Search & Seizure) operation on the basis of the mandate of the EUNAVFOR "Irini". There was no response from the cargo ship to the repeated calls from the pilots of the Greek helicopter. A few minutes later, one of the three Turkish frigates responded that the ship was under the protection of the Turkish Republic. In this way, the Turks refused the VBSS operation, indirectly confirming what its cargo really is.
(see: OP "IRINI": The Force that watched arms go by incompetent or unwilling to take action…)
France VS Turkey
Tensions between Paris and Ankara have been on the rise, with the Turkish Foreign Ministry earlier in June, accusing France of deepening the crisis in Libya by supporting the General Khalifa Haftar against the UN-backed Government of National Accord (GNA). Ankara's accusations came a few days after France called for talks among NATO allies on what it described as Turkey's increasingly "aggressive" role in Libya, which was thwarting efforts to secure a cease-fire.
Ties between NATO allies France and Turkey have soured in recent weeks over Libya, Northern Syria and drillings in the Eastern Mediterranean. "We have known complicated moments in the alliance, but we can't be an ostrich and can't pretend there isn't a Turkey problem at NATO. We have to see it, say it and handle it," has said a French defense ministry official.
On June 17, the French Defense Ministry urged NATO to address its "Turkey problem" amid rising tensions over Libya and other issues. French President Emmanuel Macron has accused Turkey of bearing "criminal responsibility" for the situation in Libya. "I think it's a historic and criminal responsibility for a country which claims to be a NATO member," said Macron -who considers NATO as "a brain dead Organization"– during a joint press conference with German Chancellor Angela Merkel on Monday. The French President said Turkey was "massively importing" jihadists from Syria.
Ankara answered by arresting four members of a cell spying for France. According to the police, the spy cell had been operating in Turkey since 2013. It was headed by Metin Özdemir, a former Turkish military, who underwent intelligence training in France and was attached to the French Consulate General in Istanbul. He was in charge of overseeing the Turkish far right and associations linked to Fettullah Gülen (banned after the 2015 coup). The spies were in possession of fake MIT (Turkish Secret Service) cards and reported to two DGSE (French Secret Service) officers. They allegedly received a salary of €600 per month.
France's interests in Libya
The NATO-led military intervention in Libya in 2011 was initiated by Paris, that was a big political surprise both for supporters and opponents of the intervention. France's involvement in the region is based on the extensive interests it has historically had in Libya.
First of all, its interests are present in the energy sector. French oil companies are likely to be among those hoping for lucrative oil contracts in Libya. Among them is Total the world's fourth largest oil and gas company, that was already involved in Libya. Considering Libya's plentiful and largely unexplored energy reserves, French energy companies could stand to profit from helping rebels take power in Tripoli. Haftar controls important oil fields in southern Libya.
France also has geostrategic interests in Libya. Its southern border is of great importance to France because the former colonies of Chad and Niger are just across. Among other things, Libya is the main hub of the Western Mediterranean migration route. France fears that if Turkey gains influence in Libya it will also increase pressure on the whole of Europe by the migration flows.
The growing number of refugees/migrants from the Middle East and North Africa to Europe has become a severe challenge for the European Union and especially for France. The migration crisis has forced the EU to step up negotiations with Turkey, which has become a transit point for migrants. However, Turkey and the EU could not reach a final agreement that could completely secure the "European" border from the uncontrolled flow of refugees/migrants. In this way, Turkey now is able to influence the EU countries. For example, on February 29, Recep Tayyip Erdogan opened the border with the European Union for refugees/migrants from Syria. Thousands of them has tried to cross the border with Greece. In early March, the government said that the situation with illegal migrants on the border with Turkey threatens the national security of Greece.
Macron also reportedly spoke to Russian President Vladimir Putin on June 27, without however denouncing the country's actions in Libya. The two leaders agreed, instead, to work towards a common goal of a ceasefire. There are reports that a covert Russian-French alliance is being formed in Libya, a move that seems to have disrupted Ankara's plan for an agreement with Moscow that would enable it to take control of Sirte. The Russians and the French view Sirte with the same importance; both want the port and the base of Al-Qardabiya.
Despite the importance of the city of Sirte to Russia, Turkey was hoping to conclude a deal with Russia similar to the one that led to the withdrawal from West Tripoli, hence allowing Turkey to gain control of this coastal city. In Turkish calculations, Russia's relinquishing Sirte does not seem impossible, since Ankara can offer Moscow the airbase of al-Jufra, described as the most important base in Libya, while keeping the base of Al-Qardabiya to itself. These calculations, however, seem to have not taken into consideration French interest in the city, particularly its port that Paris was planning to make its nearest gate to Africa. France is not willing to tolerate the surrender of Sirte and would not hesitate to move to counter any attack on the LNA forces in the city.