Will the US and Turkey break up over Russian S-400?
Anastassios Tsiplacos - South East Med Energy & Defense Analyst
The US administration is ramping up the pressure amid Turkey's economic recession and political turmoil. Before Turkey's President trip to Moscow in early April, Vice President Mike Pence warned Turkey on Wednesday against buying the Russian S-400 anti-missile system, keeping up the pressure on its NATO ally to abandon the purchase that Washington considers a threat to US military equipment. "Turkey must choose. Does it want to remain a critical partner in the most successful military alliance in history or does it want to risk the security of that partnership by making such reckless decisions that undermine our alliance?" Pence said in remarks at a NATO event in Washington. "We've also made it clear that we will not stand idly by while NATO allies purchase weapons from our adversaries that threaten the cohesion of our alliance," Pence added.
The latest development, came 3 days after Erdogan suffered one of his biggest electoral losses in decades in local elections, and after the April's 1st announcement that the USA had suspended "deliveries and activities" under Turkey's procurement of the F-35 fifth generation stealth fighter jet. "We very much regret the current situation facing our F-35 partnership with Turkey, and the DoD is taking prudent steps to protect the shared investments made in our critical technology," Pentagon spokesman Charles Summers said in a statement, referring to the Department of Defense. "Should Turkey procure the S-400, their continued participation in the F-35 program is at risk." Summers added that the Pentagon is currently developing additional sources to replace the Turkish-produced F-35 components. Turkey makes parts of the fuselage, landing gear and cockpit displays.
Earlier Wednesday, Turkish Foreign Minister Mevlut Cavusoglu had said Turkey has proposed to the United States that they form a working group to determine that Russian S-400 missile defense systems do not pose a threat to US or NATO military equipment. "It will not be integrated into the NATO system … therefore we propose the United States to establish a technical working group to make sure that this system will not be a threat – neither to (US) F-35s nor the NATO systems," Cavusoglu told a panel in the United States.
A senior US official however, said the US Congress would not approve a Patriot sales package to Turkey unless it dropped the S-400 deal with Russia, but both sides have been working on alternative solutions. Asked about Greece, another NATO member that purchased Russia's S-300 system in the mid-1990s, he answered that the alliance viewed Russia very differently at that time. "It had not invaded and seized sovereign territory of its neighbours [at that time]," he said, pointing to Moscow's military action in Georgia and Ukraine in the last decade. "We also didn't have an F-35 [fighter jet] programme under way at the time where the operation of an S-300 system would necessarily call its security into question."
After US Vice President's stark warning, Turkey struck back promptly with Turkish Vice President Fuat Oktay issuing his own warning on Twitter: "The United States must choose. Does it want to remain Turkey's ally or risk our friendship by joining forces with terrorists to undermine its NATO ally's defense against its enemies?" Turkish officials have accused the US of politicising the purchase after divisions have emerged, particularly over the civil war in Syria and Washington's support for the Kurdish YPG militia in the fight against the Islamic State of Iraq and the Levant (ISIL, ISIS) group. Turkey considers the YPG – which the US has armed and trained and is its main ally in Syria – as a "terrorist group".
History of the Turkish F-35 programme
On July 11, 2002, the Under Secretary for Defense Industries of the Turkish Ministry of Defense signed a $175 million memorandum of understanding (MOU) for Turkish partnership in the Joint Strike Fighter (JSF) systems development and demonstration (SDD) phase. Turkey had taken part in the JSF's concept demonstration phase (CDP) to begin its association through foreign military sales for $6.2 million. As a CDP partner Turkey gained significant insight into the program concepts and requirements definition and participated in various capabilities modeling and simulation events. Included in these efforts was a life cycle cost control study, an important area of consideration for the Turkish Air Force that examined the changes to Air Force logistics that should be accomplished to support their JSF aircraft. As a Level III partner, Turkey, should it remains in the programme, will participate over the the 10 years of the systems development and demonstration phase.
On 12 December 2006, the Defence Industry Executive Committee selected F-35 as the Turkish Air Force's future combat aircraft and decided for Turkey to participate in the JSF Production, Sustainment and Follow-on Development (PSFD) Phase by signing the PSFD MOU. PSFD Phase will cover the entire service life of the F-35 aircraft beginning from the very first production. The MOU document has been signed by Minister of National Defence Vecdi GONUL on 25 January 2007 at the Pentagon.
As of 2011 Turkey was one of eight countries [the UK, Canada, Netherlands, Italy, Denmark, Norway, and Australia] partnered with the United States on the F-35 Joint Strike Fighter (JSF) program. At that time Turkey planned to purchase up to 116 F-35s, 90 for delivery over a 10-year period (initially estimated as 2014-2023, but later revised to 2019-2030), that were to be jointly developed and/or assembled by firms of the various JSF partners. Turkey's cost would be at least $11 billion and could exceed $15 billion, given continued cost growth in the program. A final purchasing decision could be made in 2011.
Turkish companies had received contracts to do substantial work that Jane's estimated could result in revenue between $5 billion-$6 billion over 20 years, including a TAI contract with "Northrop Grumman" to serve as a second-source production center for up to 400 center fuselages, and a joint venture between U.S. firm "Pratt and Whitney" and Turkey's "Kale Group" to manufacture parts for the JSF's F-35 engines. An initial long term agreement was signed between "TUSAS Aerospace Industries, Inc." and "Northrop Grumman Corporation" to produce composite parts and subassemblies for the F-35 Joint Strike Fighter on 14 June 2005. The agreement covers production of composite parts and subassemblies for the F-35 Joint Strike Fighter.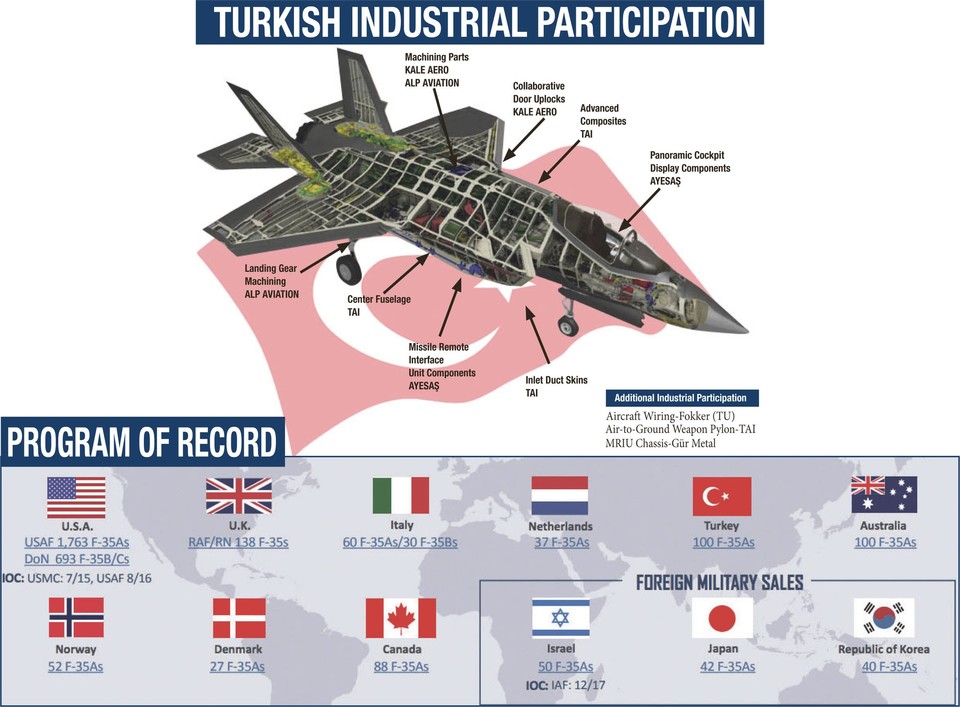 The ultimate target for industrial return is above 70% of the total Program cost. SSM worked to improve the level of Turkish industrial participation in coordination with the US and other foreign suppliers. For this purpose, SSM and LM signed a Letter of Intent and Industrial Participation Plan on 6 February 2007 in Ankara. Furthermore, the JSF Turkish Industry Coordination Team, assigned by SSM, is in charge of enhancing the communication between Turkish companies and foreign suppliers and pursuing potential opportunities in the Program. Besides, a fund has been allocated for the purpose of supporting the capabilities of Turkish companies. In the meantime analyses have been carried out with the prime contractor to determine whether or not it is feasible to achieve the required level of the competence in technical and logistic fields.
However, due to the recent development the US Defence Department is searching for new sources to replace Turkish-made F-35 aircraft parts after Washington suspended activities associated with Turkey's F-35 operational capability. Pentagon spokesperson Charles Summers said in a statement: "The United States has been clear that Turkey's acquisition of the S-400 is unacceptable. Therefore, the DoD has initiated steps necessary to ensure prudent program planning and resiliency of the F-35 supply chain. Secondary sources of supply for Turkish-produced parts are now in development."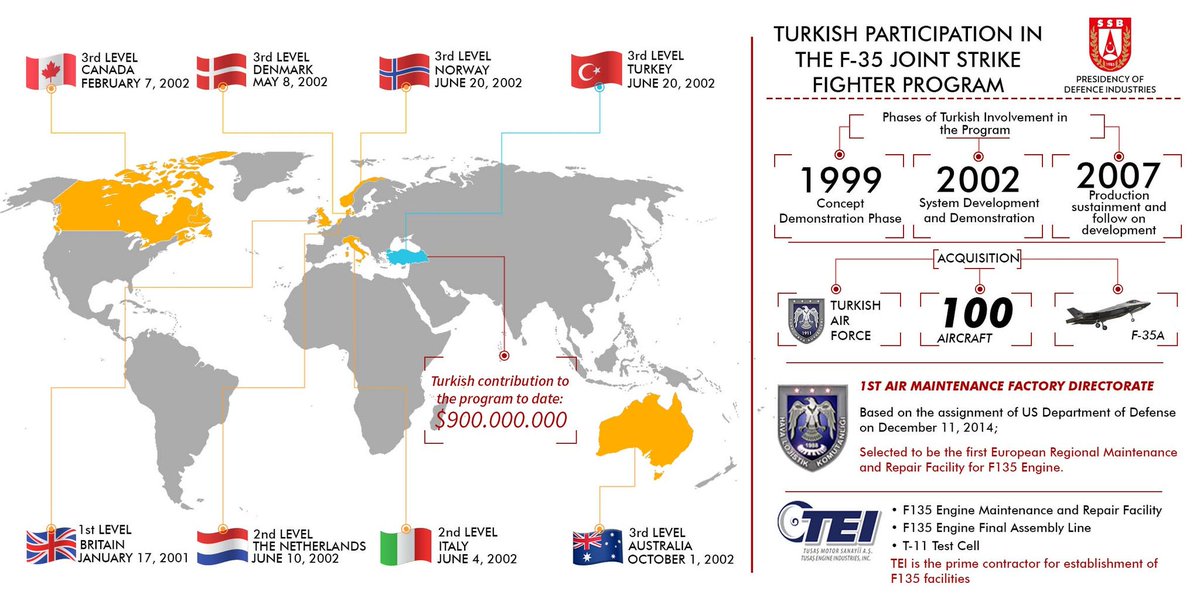 There are about 800 parts that Turkey makes for the F-35, and of them, very few are sole source. Sole source parts from Turkey can be replaced by contractors who had previously bid to make them. Replacing or finding substitutes for the Turkish components would slow production for a three-month period at the Lockheed Martin facility that builds the jets. The center fuselage produced in Ankara could be made by "Northrop Grumman Corp.", which already makes them in California.
As of today, 2 F-35s have already been delivered to Turkish custody, and were currently at Luke Air Force Base in Arizona, where Turkish pilots were training with the aircraft. "Lockheed Martin will hold a rollout ceremony for Turkey this Thursday in Fort Worth, and the two jets will follow-on to Luke Air Force Base in Arizona at a later date," Pentagon spokesman Lt. Col. Mike Andrews stated CNN on 20 June 2018.
Turkish F-35 pilots and maintainers arrived at Luke Air Force Base and started flight academics from then on. Turkey was scheduled to begin receiving the aircrafts in 2019. Two more jets were expected to be delivered soon. Turkey's President Erdogan announced during a December 2018 rally that Turkey would receive 120 F-35s, an increase over the 100-aircraft requirement previously announced. The additional aircraft could be F-35Bs, in which Turkey has shown keen interest as part of its naval ambitions to operate two aircraft carriers.
The S-400 controversy
Following protracted efforts to purchase the more expensive Patriot air defense systems from the US with no success, Ankara decided in 2017 to purchase the Russian S-400 air defense system. The United States has warned Turkey that its planned purchase of the Russian S-400 air defence system would put at risk Ankara's participation in the F-35 jet program and could lead to Washington imposing sanctions on Ankara. US Department of State spokesperson Robert Palladino said in a press briefing on 5 March 2018: "We've clearly warned Turkey that its potential acquisition of the S-400 will result in a reassessment of Turkey's participation in the F-35 program and risk other potential future arms transfers to Turkey, as well as lead to potential sanctions under the Countering America's Adversaries Through Sanctions Act." He also noted that the US position regarding Turkey potentially obtaining S-400 systems has not changed and Washington would like to work collaboratively on the issue of air defence systems with Turkey.
US General Curtis Scaparrotti, head of the United States European Command, told the Senate Armed Services Committee that he doesn't recommend delivering F-35 jets to Ankara if it doesn't abort the S-400 missile defence deal with Russia. Scaparrotti noted that he, as a military officer, doesn't advise allowing the top US jets to be used in countries that operate Russian military systems, especially air defence systems. "If they accept the S-400 and establish it within Turkey, there is an issue […] that has to do with the F-35. It presents a problem to all of our aircraft, but specifically the F-35. My best military advice would be that we don't follow through with the F-35 [delivery], flying it or working with an ally that's working with Russian systems, particularly air defence systems", he said.
Additionaly, the U.S. President Donald Trump sent a letter to Congress calling for the termination of preferential trade treatment for Turkey, reversing a long standing trend of handling issues with Ankara quietly and in private. Most of Turkey's exports to the U.S. have enjoyed duty-free treatment since 1975.
Turkey's counter-arguments
Nevertheless, Washington has sent too many mixed signals to Erdogan. This has allowed him to believe that "Turkey is too big to fail" in the U.S.'s estimation and that he can get away with taking delivery of the S-400 system. "As for the statements made by the US, this is the case of the presidents of two serious countries [Russia and Turkey] signing the agreement we are talking about. [S-400 and F-35] are two different things. We are partners with the US on the F-35 and we will continue our cooperation on both tracks. We are a sovereign state and we make decisions, which are in the best interests of our country," Turkish Undersecretary for the Defense Industry Ismail Demir told Russian journalists on the sidelines of the recent Eurasia Airshow in Antalya.
Turkey says it needs alternative defences to counter regional threats and can nationalise the Russian S-400 system by redesigning its software. Over the past, Turkish defence analysts and former military officers, has said the defence arsenals of Baltic and East European states are made up of Russian systems as well as NATO ones, including radar and support mechanisms. They questioned US objections to Turkey's S-400 purchase, suggesting that concerns over "interoperability" between the Western and Eastern defence systems are unfounded, because the deal with the Russian government does not ban any further patch of software that Turkey can modify, in accordance with national and NATO standards. It is a vital issue not only for NATO, but also for Turkish aviation assets. Hence redesigning the software of the system will completely make S-400 interoperable with the NATO systems. On the other hand, defence engineers say Turkey could redesign software only for parts that Russia grants access to, and building entirely "indigenous" software to control the S-400s is impossible.
How the US reached its decision
Senators James Lankford (R-OK), Jeanne Shaheen (D-NH), Thom Tillis (R-NC), and Chris Van Hollen (D-MD) on 28 March 2019 introduced a bill to prohibit the transfer of F-35 Joint Strike Fighter aircraft to Turkey until the government certifies that Turkey will not accept delivery of Russia's S-400 air defense system. "Turkey is an important NATO ally and willing partner in addressing a number of US national security priorities," said Lankford. "It's concerning that Turkey would seek close defense cooperation with Russia, whose authoritarian ruler seeks to undermine NATO and US interests at every turn. Senators Shaheen and Tillis have worked diligently with me and others in Congress to address America's rapidly deteriorating relationship with Turkey." said Lankford.
"Make no mistake, the Kremlin is an adversary of the United States and many of our NATO allies. The prospect of Russia having access to U.S. aircraft and technology in a NATO country, Turkey, is a serious national and global security risk," said Shaheen. "Turkey is a critical ally, but until President Erdogan forgoes his perplexing efforts to acquire the S-400 air defense system, not a single F-35 aircraft should be delivered to Turkey. This bill makes it clear that NATO's integrity, interoperability, and security is a top foreign policy concern across all branches of the U.S. government. As such, this bipartisan bill will help ensure the safety and security of the United States and our transatlantic community."
The U.S. Senate approved the bill on 18 June 2018 that could open the way for blocking or slowing down the sale of F-35 fighter jets to Turkey amid a number of unresolved disputes that had strained bilateral relationship over the past few years. Both Senate and the House of Representatives had legislation that envisaged blocking delivery of the F-35s to Turkey. The Senate would prevent the transfer until Pentagon devised a plan to remove Turkey from the joint program.
The FY2019 Senate Defense Authorization Act reported issued 5 June 2018 noted that "The Republic of Turkey is a North Atlantic Treaty Organization (NATO) ally and critical strategic partner of the United States. The committee recognizes that the United States-Turkey alliance remains essential for deterring and countering Russian aggression, countering Iranian malign influence, and combating terrorism, all of which are priorities of the new National Defense Strategy. … However, the committee remains concerned about a number of issues, which threaten to undermine the foundation for a strong and sustainable United States-Turkey alliance. For example, Turkey's purchase of the S–400 air defense system from the Russian Federation would be incompatible with Turkey's commitments as a NATO ally. Not only would the purchase put billions of dollars into the Russian military industrial complex and give more profits to Vladimir Putin's corrupt network of kleptocrats."
"…The committee recommends a provision that would prohibit the transfer of title for any F–35 aircraft to the Government of the Republic of Turkey until such time as the Secretary of Defense submits to the appropriate congressional committees a plan to remove the Government of the Republic of Turkey from participation in the F–35 program, to include industrial and military aspects of the program. The committee continues to monitor with concern the trajectory of the U.S.-Turkey relationship. The committee is aware that Turkey plans to buy a large number of F–35s and is a program partner eligible to become a supplier to the global F–35 fleet. However, the announced purchase by Turkey of the Almaz-Antey S–400 system represents the latest in a troubling series of events affecting relations between the government of Turkey and the United States. The committee is concerned that further deterioration in the relationship between the United States and Turkey could result in disruption of cooperative programs, such as the F–35."
Will the US and Turkey break up over Russian S-400?
As a NATO member that borders Iran, Iraq and Syria, Turkey is strategically a vital partner for the U.S. as well as the E.U. After decades of using "honey" to attract Turkey towards the West proved insufficient, the Trump administration and Congress are turning to "vinegar". Clarifying the consequences -on the trade front and the security relationship- that Turkey will suffer should it continue to pivot away from the West, might convince Erdogan that Washington's bite will finally be worse than its bark. The issue of the buy of the Russian S-400 anti-aircraft system and the way Ankara will handle it will also determine future relations with the U.S., both defense and economic, while Turkish economy is in grave recession and in direct need of new investments. But as of right now, Erdogan was betting that Washington will blink first…