Ankara in an apparent bid to entrench what it sees as its rights in the Aegean and the Eastern Mediterranean, it has reserved an area stretching north from the Aegean island of Rhodes to the western coast of Cyprus to explore for oil and gas.
Anastassios Tsiplacos - Managing Editor
The publication in the Turkish government's gazette of a map outlining areas of the Greek continental shelf where Turkish Petroleum Corporation (TPAO) has applied for exploration permits has drawn a ferocious response from Athens, which warned it is fully prepared to respond in the event that Ankara chooses to conduct exploratory activities in these areas.
Greek Minister of Defence Nikos Panagiotopoulos issued a stern warning to the Turkish government saying Greece would react firmly in the event Turkey escalated its provocations and attempted to implement plans for research and drilling within the Greek continental shelf.
The Minister of National Defence clarified that Greece will not maintain the attitude of a mere observer and that if necessary "we will show our teeth."
"We showed this in their effort to violate our borders in Evros and we are continuing to move in a similar direction. We have stated what our red lines are. In the event that Turkey escalates its aggressive policy, we have an answer," said Mr. Panagiotopoulos in Parliament.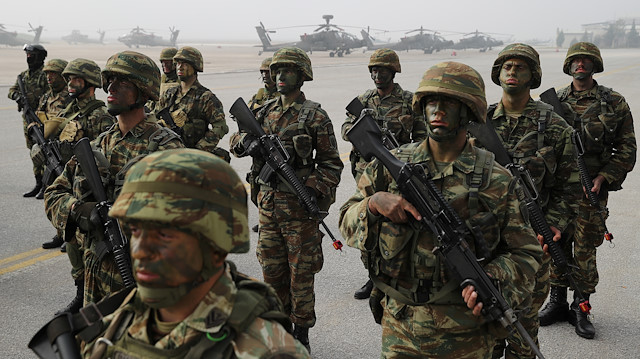 Çağatay Erciyes, a senior Turkish foreign ministry official in charge of maritime and aviation boundary affairs, shared the map on Twitter and said that the United Nations had been informed of areas in the eastern Mediterranean included in the Turkish Petroleum Corporation's (TPAO)'s new applications for drilling licences.
The map shows the 24 blocks that Ankara has demarcated from its shores to the point where its sea borders meet Libya, based on the maritime border agreement it signed with the North African country's internationally recognized Government of National Accord (GNA) last December.
The delimitation of 24 blocks (O 20, O 21, P 20, P 21, R 18, R 19, R 20, R 21, S 16, S 17, S18, S 19, S 20, S 21, T 16, T 17, T 18, T 19, U 16, U 17, U 18, U 19, V 18 and V 19) extend from the southeast of Crete to the Gulf of Fethiye located north of Rhodes.
The western boundary of the blocks O 20, P 20, R 18, R 19, S 16, S 17 and T 16 reaches up to six nautical miles from the Greek islands of Rhodes and Crete and traces the map layout of the Turkey-Libya Memorandum.
Foreign Ministry spokesman Hami Aksoy, in a written statement, said that: "Our country will continue to exercise its sovereign rights in this field, which it has announced many times."
The agreement has been fiercely condemned by Greece as a violation of its sovereign rights. It has been declared illegal by Cyprus, Israel and Egypt as well, while the European Union has also opposed it.
Denouncing Ankara's efforts to "usurp Greece's sovereign rights," Foreign Minister Nikos Dendias said on Monday that "Turkey's illegal activities do not produce any legal effects."
"Let us be clear. Our views on this issue and on the consequences of Turkish illegality are well-known. They have been repeatedly conveyed to Turkey," he said. "Greece was and remains fully prepared to deal with this provocation, if Turkey decides to implement it," he added.
Turkey's Ambassador to Greece​​​​​​ Burak Ozugergin was summoned to the Greek Foreign Ministry in Athens, where he was handed a demarche.
Athens sees the map as an illustration of Turkey's claims that encroach on Greek sovereign rights, as some of these blocks are located six nautical miles east of Rhodes, Karpathos, Kassos and eastern Crete.
The Turkish Foreign Ministry was defiant on Tuesday, saying Ankara would proceed normally with its planning, describing the areas up to six nautical miles from Rhodes, Kassos, Karpathos and Crete as being part of the Turkish continental shelf.
Meanwhile, Recep Tayyip Erdogan's National Security Council announced Tuesday that Turkey would continue to protect its rights in the Eastern Mediterranean, "without any compromise."
As Turkey pushes to expand its influence in the Eastern Mediterranean, Josep Borrell, the European Union's foreign policy chief, has urged Ankara to respect the sovereignty of Greece and Cyprus.
In response to questions about Turkish plans to begin hydrocarbon exploration near Greek islands, Borrell said on Tuesday the EU was monitoring developments while being "in close contact" with Athens and Nicosia, adding that the Foreign Affairs Council "already delivered a strong message addressed to Turkey." Borrell said that Turkey's violations were an issue of "utmost importance" with regard to Ankara's EU membership talks.
His comments have coincided with a diplomatic marathon that Athens has embarked on with the aim of mobilizing permanent members of the United Nations Security Council, the EU and NATO to bring pressure to bear on Ankara after the publication in the Turkish government gazette of the map outlining the areas of the Greek continental shelf.
At the same time, however, Turkey is included among the EU candidate countries set to receive funding from the European Union's next long-term budget between 2021 and 2027, said Oliver Varhely, the EU Commissioner for Neighbourhood and Enlargement.
The European Commission has proposed a new Instrument for Pre-Accession Assistance (IPA), a financial tool for EU candidate countries used toward projects and programmes allowing alignment with bloc, earmarking €14.5 billion for the mechanism.
"As an EU candidate country, Turkey is included in the IPA," Diken news site quoted Varhely as saying. The report arrives after Turkish President Recep Tayyip Erdoğan last month unexpectedly revived Turkey's bid for EU membership, citing the coronavirus pandemic as a clear demonstration of the need for unity.
On the other hand Francis Fannon, US Assistant Secretary of State for Energy Resources, said on Tuesday during a virtual roundtable discussion on the Eastern Mediterranean and the trilateral partnership between Greece, Cyprus and Israel, that the Turkey-Libya memorandum of understanding (MoU) relating to maritime zones "cannot as a legal matter affect the rights or obligations of third states" such as Greece.
"International Law, the Convention of the Law of the Sea generally recognises that islands … generally have an EEZ and they have a continental shelf, just as any other land territory," he said.
At the same time, an MoU "does not abrogate the rights of states," he added, "their legal status is recognized, there's not an equivalency here."
Fannon also noted that the United States has been "very consistent in calling to stop all provocative actions that could undermine investment confidence in the East Mediterranean region" and affect political stability.
"We can't comment on future actions or what may or may not happen. We certainly just encourage that states stop provocative actions, and stop provocative behavior, and stop provocative statements, and really look at the opportunities that lie before them," he said.
Why Now?
Turkey's economy has fallen back into contraction this year -activity had slumped following a currency crisis in 2018 – after the COVID-19 outbreak hit its tourism industry and key export markets in Europe. The lira has taken a downturn and its economy is at the very edge.
The economic downturn and high levels of foreign debt – Turkey has to refinance $400 billion in debt this year- leave it higly exposed. Together with growing negative polls reflecting to President Tayip Erdogan himself, guide him to find a "soft" target to turn the interest of public opinion, as well as to test the resolve of Greece and Cyprus.
The crisis encompassing the Eastern Aegean Sea, as well as Mediterranean and Libya, reminds the pre-WWII period, and reveals an unsettling fact as well: There is a deadly game being played. Irrational adventurism is profound and Turkey seems to be seeking to trigger a military confrontation with Greece.