President Biden ends decades of US appeasement of Turkey
Anastassios Tsiplakos - Managing Editor
One could say that April was the worst month in years for Turkish President Erdogan and Turkish foreign policy. Last week in particular was his "Passion Week", due to the very serious blows inflicted by the United States on Erdogan's regime, which will hurt the image of the Turkish President, both in foreign and domestic policy, as well as the Turkish economy.
BLOW No.1: U.S. President Joe Biden declares mass killings of Armenians as genocide…
U.S. President Joe Biden has formally recognized that the systematic killings and deportations of hundreds of thousands of Armenians by Ottoman Empire forces in the early 20th century were "genocide".
Biden used a presidential proclamation to make the pronouncement. While previous presidents have offered somber reflections of the dark moment in history via Remembrance Day proclamations, they have studiously avoided using the term genocide out of concern that it would complicate relations with Turkey -a NATO ally.
During a telephone call Friday, Biden informed Turkish President Recep Tayyip Erdogan of his plan to issue the statement. Biden's call with Erdogan was his first since taking office more than three months ago. The delay, that is widely seen as a cold shoulder to Erdogan, had become a worrying sign in Ankara.
Neither the White House statement on the phone call nor the account provided by the Turkish presidency made any mention of the issue. It said the two leaders agreed to meet on the margins of the NATO summit in June to have a wider conversation about their two countries' relations. The very short readout from the call indicates that the conversation did not go well at all.
A statement from the Turkish presidency said Biden and Erdogan agreed on "the strategic character of the bilateral relationship and the importance of working together to build greater cooperation on issues of mutual interest."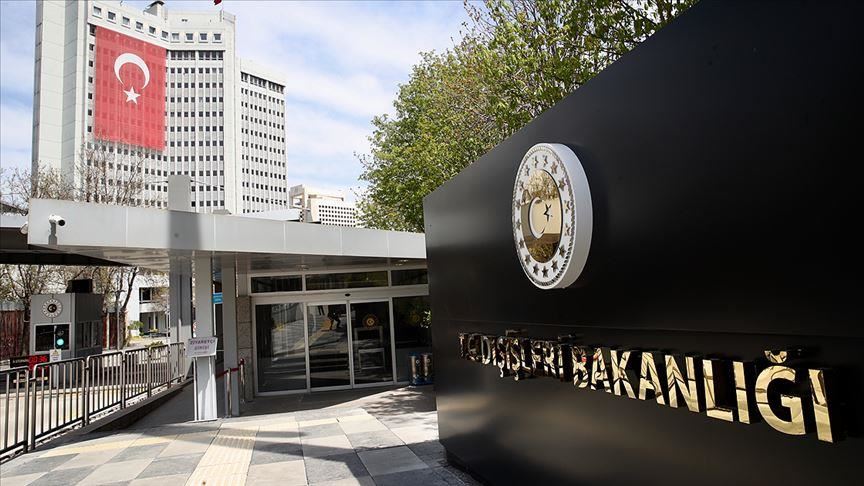 Turkish Foreign Minister Mevlut Cavusoglu immediately criticized Biden's statement. "Words cannot change history or rewrite it," he said in a tweet. "We will not be given lessons on our history from anyone. Political opportunism is the biggest betrayal of peace and justice. We completely reject this statement that is based on populism."
Turkey will respond over the coming months to the remarks by the US president on the events of 1915, the country's presidential spokesman, Ibrahim Kalin said Sunday. "To reduce all that to one word and try to implicate that Turks were involved, our Ottoman ancestors were involved in genocidal acts, is simply outrageous. There will be a reaction of different forms and kinds and degrees in the coming days and months. Everything that we conduct with the US will be under the spell of this very unfortunate statement," he said.
Erdogan himself has been perhaps the most surprising in his silence. A leader known for his bombastic rhetoric and his unflinching willingness those who cross him, the President has held his tongue on any remarks about Biden's choice. Instead, the presidency only highlighted his own message to the Armenian Patriarchate in Istanbul where he expressed "condolences" for the victims of the genocide's descendants without using the term.
US President Biden's recognition of the Ottoman Empire's mass killings of Armenians as genocide is a sign of Turkey's waning influence over Washington. Biden has been "angered" by Turkish President Recep Tayyip Erdogan's policies that went against US interests.
The recognition of genocide shows how low US-Turkish relations have sunk, considering previous presidents avoided using the term so that they would not upset an important NATO ally. Ties between Ankara and Washington have been strained over a host of issues, from Turkey's purchase of Russian S-400 defense systems -over which it was the target of US sanctions- to policy differences in Syria, Lybia, human rights and legal matters.
BLOW No.2: U.S. has officially removed Turkey from the F-35 fighter jet programme…
Washington has signed a new agreement for the programme with other eight signatories, after the annulment of the 2006 Memorandum of Understanding (MOU). The United States, United Kingdom, Italy, the Netherlands, Canada, Australia, Norway and Denmark have signed a new MOU in a development that, Jessica R. Maxwell Pentagon Spokesperson said, has been shared with Ankara.
Washington initially removed Turkey from the F-35 Lightning II jet programme in 2019, after Turkey purchased the Russian S-400 air missile systems, which it maintains poses a security threat to U.S. and NATO systems. Turkey had been planning to buy 100 F-35s, but the United States has refused to deliver the four completed jets after the country's expulsion from the programme.
Nevertheless, Turkish contractors continue to manufacture parts for the fifth generation jet, despite the country's removal from the programme and the implementation of U.S. sanctions on the Turkish Defence Industries Presidency (SSB) in December.
Ankara had been working to get back into the programme by hiring lobbyists in Washington earlier this year. Turkey's state-owned Defence Industry Technologies (SSTEK) hired Washington-based law firm Arnold & Porter for lobbying efforts to get back into the F-35 stealth jet fighter programme, however to no avail.
BLOW No.3: U.S. State Department's Travel Advisory "Do not travel to Turkey"…
The Center for Disease Control and Prevention (CDC) has issued a Level 4 Travel Health Notice for Turkey due to COVID-19, indicating a very high level of COVID-19 in country. CDC also advised not travel to certain Turkish provinces and any area within six miles (ten kilometers) of the Syrian border due to terrorism.
Terrorist groups continue plotting possible attacks in Turkey. Terrorists may attack with little or no warning, targeting tourist locations, transportation hubs, markets/shopping malls, local government facilities, hotels, clubs, restaurants, places of worship, parks, major sporting and cultural events, educational institutions, airports, and other public areas.
Turkish Security forces have detained tens of thousands of individuals, including U.S. citizens, for alleged affiliations with terrorist organizations based on scant or secret evidence and grounds that appear to be politically motivated. U.S. citizens have also been subject to travel bans that prevent them from departing Turkey. Participation in demonstrations not explicitly approved by the Government of Turkey, as well as criticism of the government (including on social media) can result in arrest.
BLOW No.4: Turkish Lira tumbling down…
The Turkish currency has slumped by over 40% since the start of last year as investors fretted over unorthodox economic policies followed by the government and central bank. That has raised concerns for a repeat of a currency crisis in 2018, sparked by economic overheating and a diplomatic crisis between Washington and Ankara over the detainment of a U.S. pastor on terrorism charges.
Last week, Turkey's lira dropped on reports that U.S. President Joe Biden planned to recognise the Armenian genocide in a move that would worsen fraught US-Turkey relations, as well as due to fears that the actual recognition will see lira tumbling down next week. The lira also declined after the United States officially notified Turkey of its exclusion from a programme to develop and acquire the F-35 stealth fighter jet.
The lira also fell on Thursday after President Recep Tayyip Erdogan said on Wednesday that the central bank could sell foreign exchange reserves to support the currency. That would threaten a repeat of mass sales of the reserves last year that left the bank's war chest severely depleted.
Indeed, Turkey's lira continued to decline on Monday, nearing an all time low, as well as after Central Bank Governor Şahap Kavcıoğlu signalled late on Friday that monetary policymakers had no plans to hike interest rates.
Biden ends decades of US appeasement of Turkey
The level of appeasement of Turkey and catering to endless threats from Ankara has no parallel in US history. No other government in the world has exercised such control over even the language used by the White House. US appeasement of Turkey was founded on three major pillars:
There is one argument that sees Turkey as an important "geopolitical" asset and a "NATO ally."
This view is rooted in the Cold War and argues that Turkey can be a buffer against Russia. However, Turkey has grown closer to Russia and US administrations never demanded Turkey be so close to the West. Instead Turkey did what it wanted and played US policymakers like a fiddle, pretending to confront Russia. Turkey would even bring this up to encourage US support for Azerbaijan against Armenia, even though it didn't actually roll back Russian influence. In fact Russia's role in Syria grew alongside Turkey's role as they carved up Syria for influence and signed deals at Astana and then in 2018 and early 2020.
The next theory is that Turkey must be appeased or it will get worse. This theory is used by US policy makers, often at the State Department and in think tanks, to argue that if the US offends Turkey's increasing dictatorship, the country might become even more extreme. This was the same logic that underpinned appeasement of Fascism and Hitler. It has led to the same thing in Turkey: Increasing attacks on minorities and rights activists, with western silence.
A last pillar of Turkey's influence in the US relied on its lobbying arm and recruitment of US officials inside and out of government, sometimes at think tanks. It even operationalized pro-Israel voices in the early 2000s to get them to deny the Armenian genocide under the auspices that Turkey was close to Israel and denying genocide would "help Israel."
Calling the Bluff…
For years, Turkey has warned Washington against recognising the Armenian Genocide or else it would risk harm to their so-called "strategic partnershillip." Turkey's confrontation with the US over the term "genocide", however, will be weighed against its desire to have economic power, which underpinned its claims in the past to being of "geopolitical" importance. If it cares about "geopolitics," as Western analysts claim it does, then it will have more to lose from confrontation.
Whether the Biden administration finally standing up to Ankara will lead it to work with authoritarians more, is a question Ankara has to weigh against its own claims of wanting "reconciliation" with countries it has attacked in the last few years. There is no evidence that denying the genocide helped keep Ankara more liberal, tolerant, democratic and open minded and more close to the West.
Furthermore, never in history has a country left a massive military alliance worth billions of dollars, because someone used one word to refer to something that happened 106 years ago. Only Turkey used this blackmail to prevent any mention of the fact that the modern day country is largely built on hundreds of thousands of homes of Greeks and Armenians and other minorities, who were expelled and murdered, sold into slavery and suffered genocide between 1915 and 1955.
The Biden administration has called Turkey's bluff. The idea that just recognizing a genocide from 106 years ago would somehow lead Turkey to close US bases and rapidly work with Russia, Iran and China seems strange, considering the fact that Ankara must think "geopolitically" as well. The trend in Ankara was to work with Iran, China and Russia anyway. The argument was always that the West needs Turkey more than Turkey needs the US and the West. This seems to turn "geopolitics" on Ankara's head. If "geopolitics" require appeasement and always begging a country and isn't a two-way street based on respect and strength, then it's unclear what the US ever achieved over the last decades by placating Turkey.
Why now?
There are three major reasons why Biden's administration is prepared to take this approach towards President Erdogan's Turkey, when previous U.S. administrations would not, even if their leaders had promised to do so on the campaign trail, as Biden did. The changing circumstances of the U.S.-Turkey relationship, largely though not entirely due to Erdogan's actions, have undercut Turcophiles' arguments against the announcement, as well as the change in strategy.
First, Erdogan has tied his leadership of Turkey to an image of the Ottoman Empire, using an overly positive reconstruction of the history of Ottoman rule as the inspiration for his efforts to propel Turkey into the top rank of the world's nations. Without this dependency on a historical myth of benevolent Ottoman rule, Turkey's past and present leadership could have acquiesced to a depiction of the atrocities committed against the Armenians, as outrageous genocidal conduct of despotic rulers now happily gone.
And Erdogan, like many of his predecessors, has foisted this fake history on the Turkish people, making it impossible for most citizens of Turkey to make an honest appraisal of the organised atrocities perpetrated by Ottoman Turkey. But foreigners are not fooled.
Second, Erdogan's actions towards Syrian Kurdish forces (SDF/YPG) who worked with the U.S. against ISIS, his bellicose manner toward other NATO members and Cyprus regarding Eastern Mediterranean hydrocarbon exploration, and the acquisition of S-400 Russian air defense system have combined to all but eliminate any support from the Washington foreign policy community, which had formerly been favourable disposed to Turkey, as well as any desire to consider arguments for the Erdogan point of view.
Third, Biden has revealed himself as the great contra-Trump. His dozens of executive orders, the language used in speaking of his predecessor, and his team's churlish efforts to diminish the success of Operation Warp Speed, show that for Team Biden, if Trump was for it, they are against it. Only Trump protected Erdogan from the more painful and meaningful penalties Congress wished to mete out for those of his actions they judged anti-Western or worse.
In sum, Erdogan has few friends in Washington who would argue against these major blows whether for prudential foreign policy, national security, or domestic political concerns. U.S. administration believes the Turkish president can't respond too strongly while he is dealing with a major spike in COVID-19 cases and an economic crisis in his country. Relations with the US are especially important to Turkey's economy, which strongly relies on foreign investment.
The last straw could be the legal case against Turkish state lender Halkbank, which personally affects the Turkish president, who fails to understand that, in the US, an investigation of that sort does not just stop with a call from the White House. If that were the case, Joe Biden's predecessor, Donald Trump, would have tried to do so on Recep Tayyip Erdogan's behalf.
Biden's team estimates that the Turkish President will choose a rather "mild" clash, wich will be short-lived but welcomed by Erdogan, who could use the row to distract the public from the country's domestic issues, while playing to his nationalist base. Perhaps that is why Erdogan's silence so far is on the surface surprising, but it may explain the measured remarks from his government and assorted allies. Biden's careful handling, by providing Erdogan with both an advanced warning and a promise to meet in June, on the sidelines of a scheduled NATO summit, demonstrated his respect to his Turkish counterpart and a signal that relations could still improve…