Ready to dispatch survey and drilling ships in disputed waters, testing Greece's resolve. The crisis escalates…
Anastassios Tsiplacos - Managing Editor
A few days before the German-led Berlin Summit, speaking in Ankara yesterday, President Erdogan said that Turkey will continue to use all diplomatic and military means to ensure stability to its south, including in Libya.
Mr. Erdogan desires to be a key player amid the geopolitical changes in the Middle East and the Eastern Mediterranean, as Turkey seems to acquire regional superpower status. Turkey is obviously trying to consolidate its status in the region, in cooperation with Russia.
All that means that President Erdogan has managed to be involved in everything: He is considered a key factor in any Libya developments and he is treated as a major player in geopolitical readjustments in the wider region. It remains to be seen whether his Libya protege Sarraj will survive in the near future, which in effect means that the maritime delineation agreements that Ankara has signed with him will remain in effect.
On the other hand, Greece counterattacked by inviting General Haftar, Turkey's major enemy and Russia's ally, in Athens, to co-ordinate their mutual strategy, before his participation in Berlin Summit, and certainly some agreements of future value, while Greek PM Kiriakos Mitsotakis yesterday expressed his intention to veto a solution on the Libya crisis at the Cοuncil of Foreign Ministers and the summit of leaders if the Libya-Turkey maritime border deal is not scrapped.
Turkey ready to dispatch survey and drilling ships in disputed waters…
For months it has been clear that sooner or later Ankara would proceed with actions aiming to ensure that it has a place on the energy map of the Southern Mediterranean. Turkey's moves is a gradual effort to entrench its demands in the region and to test the resolve of parties with interests in the region and especially Cyprus' EEZ, such as the United States, Israel, Egypt, Greece, France and Italy.
Turkey's organized plan for domination in Eastern Mediterranean, presented by the Turkish Petroleum Corporation (TPAO) to the Turkish government, was drafted in cooperation with the ministries of Foreign Affairs and Defense. It foresees an intensification of the Turkish navy's presence throughout the Eastern Mediterranean basin. It also stipulates continuous exploratory and drilling activities within the EEZ of Cyprus, while also calling for pressure to be brought to bear on Qatar to withdraw state-owned Qatar Petroleum from the consortium with US company ExxonMobil, which is active in block 10 of Cyprus' EEZ.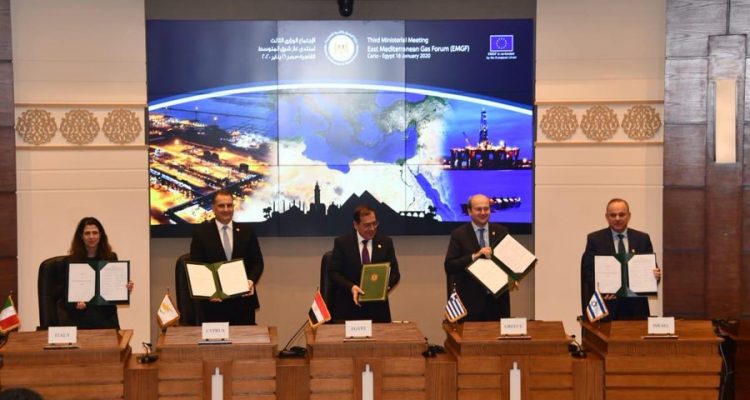 Τhe East Med Gas Forum (EMGF) foundation charter was signed yesterday, January 16, in Cairo by Egypt, Cyprus, Greece, Israel, Italy, Jordan and Palestine, with the participation of France and US strong support. All countries participating in the EMGF agreed that natural gas can be used as a tool for peace and not the creation of conflict. The Turkish Foreign Ministry characterized it as "an unrealistic formation" and stressed that the forum -established by some countries with political motives- is dreaming of leaving Turkey out of the energy equation in the Eastern Mediterranean.
This very same day, in order to enhance the above position, President Erdogan announced that Turkey would start granting licenses for exploration and drilling in the Eastern Mediterranean in 2020, in accord with the maritime agreement with Libya. He said Turkey's Oruc Reis ship would begin seismic activities in the region, which is disputed by Greece, ignoring Greek PM Mitsotakis' warning statements that Greece has the means to respond to any efforts by Turkey to drill for natural gas reserves in the area between the island of Kastelorizo and off the coast of southeastern Crete, as well as America's intention to get involved at the diplomatic level, which was declared by US Secretary of State Mike Pompeo, at a dinner he and Vice President Mike Pence held in honor of Prime Minister Kyriakos Mitsotakis' visit to Washington.
On top of this, Energy and Natural Resources Minister Fatih Donmez followed mr. Erdogan's announcement, saying that today Friday, Turkey's ultra-deepwater drillship Yavuz, will start its journey towards the Lefkosia -1 offshore hydrocarbon field, offshore northern Cyprus in the East Mediterranean Sea, to conduct drilling activities. Currently, the Yavuz drilling vessel is located in Tasucu port in Turkey's southern Mersin province.
These two announcements proved true Nicosia's fears that, in a bid to heighten tensions, Ankara might send a drillship to the island's south, to Block 1 which has yet to be licensed, a move that would likely create practical problems for Cyprus' energy program, as well as Athen's concern that Ankara could test Greece's resolve by sending a seismic vessel to a maritime block inside the Libyan EEZ as claimed in the recent pact. This will create a precedent within the zone, which Greece says for the most part lies within Crete's continental shelf. Whether TPAO, with the aid of the Turkish Navy, tries to conduct energy exploration further North -particularly in the area from Kasos and Karpathos to Rhodes and Kastellorizo– while Greece has reitterated at the highest level, that will do everything necessary to stop such aggressive actions, it will be evidence of Ankara wanting to escalate tension in the direction of militarizing the crisis.
The future direction of events is likely to depend on the extent of turkish growing (in)security as well as international pressure. There are concerns that Turkey will certainly make these fresh moves in the Eastern Mediterranean in order to stay ahead of any development either in Libya, or sanctions from U.S.A. Even in Washington, EastMed experts do not have a clear idea of how things will evolve…
for more you may also read:
NATO in Eastern Mediterranean: The Haze of Energy War
Turkey vs All in Eastern Mediterranean