Fears that Turkey's provocative posture may turn the region to a "powder keg"
Ankara following its strategy in the region's energy chess, has announced that today the 29th of October (Day of the birth of Turkish Republic by Kemal Ataturk), the drilling ship "Fatih" is expected to carry out the first drilling in the Eastern Mediterranean, attempting more difficult drillings in areas bordering or within Greek and Cypriot EEZs, in an effort to dispute their legitimacy.
Recently, Turkey's Defense Minister, Hulusi Akar, in an interview with Anadolu agency, sent a message to Greece and Cyprus, referring to the research of the Barbaros vessel in the Eastern Mediterranean, arguing that it was harassed by the Greek Navy. "We are prepared and we have taken (the appropriate) measures. At this time, our vessel, the Barbaros Hayreddin Paşa is in the area and our fleet is protecting it. Everyone needs to know that we will not allow any harassment incident or interference (with our business)."
Akar also voiced Turkey's objections to the plans related to the Exclusive Economic Zone of Greece. "Our neighbours, only because of Kastelorizo, claim that Turkey can only exploit spots that are red on the map. They claim that red-coloured ones belong to them. This is nonsense. We have reiterated that this cannot be accepted by Turkey. There is no possibility that a project survives without Turkey (without its approval) and without (the one of) the Turkish Republic of Northern Cyprus."
In his interview, the Turkish official said that Turkey is strong on all fronts: "Turkey, on the one hand, continues fighting terrorism. On the other hand, we have a marine area -which we call the blue homeland- of 430,000 square kilometres, and we have the power to support our interests and rights (in relation to it). No one should try discover our limits.".
Kastelorizo is crucial geopolitically, as it is in an area found to be rich in hydrocarbons, where the Greek and Cypriot Exclusive Economic Zones are contiguous. The island has an area of five square miles and lies 80 miles from roads and only one mile from Turkey. The fact that under international law the island has a continental shelf and an EEZ, means that if Greece extends its EEZ for the full 200 miles, that would severely limit Turkey's EEZ in the Mediterranean.
US Ambassador to Athens Geoffrey Pyatt averted a hot clash near Kastelorizo between a Greek frigate and the Turkish seismic research vessel Barbaros Hayreddin Pasha, south of Kastelorizo, according to a report aired on Star television news: "Because in the past there were many Turkish ships and submarines, illegally, in the area of Cyprus' EEZ, Pyatt saw the danger and intervened by contacting both Ankara and Nato's Joint Force Command (JFC) in Naples". 
In the recent past, the U.S. Assistant Secretary of State for European and Eurasian Affairs Wess Mitchell reffering to Cyprus, had stressed that the U.S. will not remain idle in case Turkey tresspasses its EEZ, either by drilling actions or harassment and interidiction of the programmed drillings.
According to various sources, Turkey plans two drillings at "Alania 1" south east of Attalia and at "Finiki 1" west of Attalia and 50km. approx. from Kastelorizo island. However, the drillship has not yet the appropriate specialized crew for its expedition, which is proved most difficult to be attracted in order to work for the accomplishment of the turkish plans. The six-member scientific crew on board is on the verge of quitting for reasons that have yet to be divulged. In addition, the recent debacle of turkish Lira and the according downfall of turkish economy, have seriously undermined its aspirations of becoming a strong stakeholder in the region.
Strong multinational naval presence in Cyprus' EEZ
It remains to be seen whether Turkey will decide to act today, while there are 3 large scale international naval exercises, involving local, regional and international forces in and around  the Cyprus' EEZ, till the 20th of November. The purpose of the large-scale multinational search and rescue exercise "Nemesis 2018", is to further develop effective cooperation and coordination between all of Cyprus' relevant services with neighbouring states, for the immediate response to emergencies on merchant vessels and oil rigs as well as to other humanitarian operations in the eastern Mediterranean.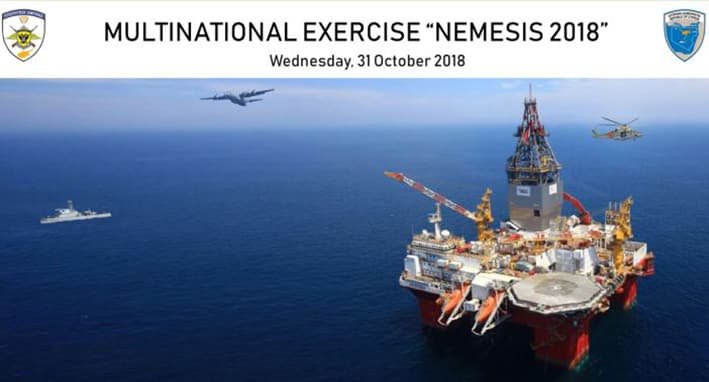 There are two more multinational exercises in the region: a joint exercise between Cyprus and Israel is also scheduled to take place within the coming days, and a third large-scale multinational exercise, that began on last Wednesday, with the participation of the navies of the US, France, Germany, Britain, Italy and Greece, and is currently underway south and southwest of Cyprus.
Meanwhile, energy giants ExxonMobil and Total are expected to proceed with drilling operations within Cyprus's EEZ in the next two months. Company representatives have said that drilling will continue according to the planned schedule – as there is a strong military presence in the Eastern Mediterranean region of US and French forces.
In this context, the U.S. Assistant Secretary of State for European and Eurasian Affairs Wess Mitchell is expected to visit Cyprus in November. He has stated, in numerous occasions, that Greece and Cyprus play an important part in the US strategy in the Eastern Mediterranean. "I will be traveling to Cyprus in a few days and what we really try to do there is to have U.S. more present not only in the bilaterally with these countries, but in the Greece, Cyprus and Israel dialogue", he said recently. "I think there is a real case to be made for seeing Eastern Mediterranean as a frontier and a very vulnerable frontier".