Whatever the big US geopolitical scheme, Washington's decision to waive the sanctions, rocks energy geopolitics and generate some eloquent questions that need answers as soon as possible.
Anastassios Tsiplacos - Managing Editor
Hardly any infrastructure project on the European continent has been more controversial than that of Nord Stream II. The debate has intensified and created more heat than light.
In the age of waning gas, there is a tendency to inter-link energy and political, geostrategic and geoeconomics considerations among technocrats and energy experts. Energy links have become echo chambers of Cold War paradigms, often without a full understanding of new global developments.
Even a more modest post-Pandemic economic recovery in the EU compared to the United States, might depend on reliable energy supply in the form of gas. EU goals of climate adaptation under the Paris Agreement by 2030, and reaching net zero emissions by 2050, will require a monumental restructuring in the energy sector.
NORD STREAM II: The apple of discorde…
The Nord Stream II Project launched in 2015 became a convenient political punching ball in German domestic politics, between the EU's 27 members, especially in eastern Europe, and in the context of changing transatlantic relations. There has been a flurry of reactions as the 1,230km long pipeline, which is a joint venture between Russia's Gazprom and five European companies and will double the Russian gas supply to Europe to 110bcm.
As of March 31, a total of 2,339 kilometres out of 2,460 kilometres or 95% of the Nord Stream II pipeline have been laid. Approximately 121km or 5% remain. There are approximately 93km in Danish waters and approximately 28km in German waters to be laid. Nord Stream could finalize construction of both strings in 2021, but the start of operations appears more uncertain -subject to German NRA certification and whether the politics will be able to influence this independent entity's decision- and could be anything between winter 2021-22 and winter 2023-24.
However, the fundamentals for Europe's global positioning industrial development between the US and China lie beyond Nord Stream II. The new EU Strategic Foresight Report of October 2020 focused on the EU dual transition (digital and green energy) and China as a systemic rival. The EU is keenly aware of its need to secure critical raw materials for the new green economy.
Therefore, top EU officials are clear about using a three-tier approach against Russia, instead of blanket economic sanctions: push-back against violations of international human rights norms, robust response to cyberattacks/disinformation, while preserving a modus vivendi in areas of shared interest or "limited engagement" which includes energy supply flows.
Germany, especially, can benefit from the larger Russian gas flows as a regional hub for distribution, minimizing transit risks and creating industrial synergies. Gas experts point to possible solutions which facilitate the phase-in of renewables. Germany's declared exit from coal and nuclear energy in 2022 is not far away. Therefore, gas provides a convenient substitute in the short run and offers "cleanest in quantity". Nurturing mutual interdependence through "compartmentalization" in energy versus security policy has been Germany's underlying principle since the Nord Stream I Pipeline was opened.
The sanctions…
U.S.A. is opposed to the Nord Stream II gas pipeline, which carries Russian natural gas to Europe, as undermining European energy security and unity. On many occasions senior State Department officials have said that the Nord Stream II do nothing to advance Europe's energy security goals and would provide Russia another tool for the political and economic coercion of european countries, especially Ukraine. Russia understands that these projects are dividing Europe, and is using that to its advantage.
Nord Stream II pipeline was placed under US extraterritorial sanctions, which generated a flurry of reports and corporate/ government evasive actions. The U.S. Congress increased its pressure on Nord Stream II with the National Defense Authorization Act for Fiscal Year 2020 it passed in December 2019. After more than a year of threatening to do so, the US first introduced sanctions on January 19, the final full day in office of former US President Donald Trump.
The implementation of items targeting ships involved in laying pipes on the seabed in these projects were on the agenda. As the new US administration under Joe Biden was reportedly weighing additional sanctions, the pipelay barge Fortuna was continuing pipelay works in the Danish Exclusive Economic Zone and the pipelay vessel Akademik Cherskiy is implementing preparatory works prior to commencing pipelay.
The US Department of State submitted on May 19 a report to Congress pursuant to the Protecting Europe's Energy Security Act (PEESA), as amended, listing four vessels, five entities, and one individual involved in construction of the Nord Stream II pipeline, including Nord Stream II AG and the company's CEO Matthias Warnig.
The Biden administration had made clear that companies participating in Nord Stream II could face sanctions and would "…continue to underscore U.S. strong, bipartisan opposition to this Russian malign influence project. The Biden administration has been clear that the Nord Stream 2 pipeline is a Russian geopolitical project that threatens European energy security and that of Ukraine and eastern flank NATO allies and partners."
A controversial decision?
Most of Russian gas currently has to pass through Ukraine on its way to Europe. The Gazprom-favoured pipeline Nord Stream II, which bypasses Ukraine, has been a major irritant in world affairs for a couple of years now. All of a sudden, however, it stopped being an issue during the US-Russia meeting in Reykjavik. Following the Blinken-Lavrov meeting, on the margins of the Arctic Council Ministerial on May 19, spokesperson Ned Price said the Secretary of State noted that the US sought a more stable and predictable relationship with Moscow.
Secretary of State Antony Blinken said in a statement the actions on May 19 demonstrate the Administration's commitment to energy security in Europe, consistent with US President Joe Biden's pledge to rebuild relationships with US allies and partners in Europe. "We will continue to oppose the completion of this project, which would weaken European energy security and that of Ukraine and Eastern flank NATO and EU countries," Blinken said, stressing that US opposition to the Nord Stream II pipeline is unwavering. "Though we may not always agree, our alliances remain strong, and our position is in line with our commitment to strengthen our Transatlantic relationships as a matter of national security," he added. This move, however, is at odds with Antony Blinken's statement, made during his confirmation hearing: "I am determined to do whatever we can to prevent that completion" of Nord Stream II.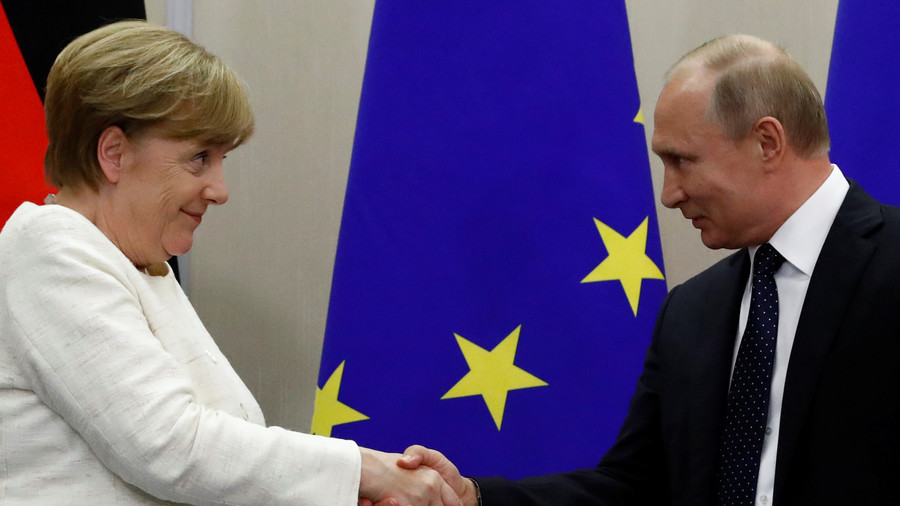 Τhe completion of Nord Stream ΙΙ will be a huge geopolitical win for Russian President Putin and give him substantial new leverage in Europe. The pipeline could be finished by the summer without a major intervention to stop it. Bypassing Ukraine with a direct pipeline to Germany is an opportunity for Russia to advance its goal of isolating its former client state, now a fledgling democracy, from Western Europe.
The US along with Lithuania, Ukraine and Poland opposed the pipeline, citing its security risk particularly for Ukraine and Poland, in bypassing existing gas transit in both countries.
Today, however, several countries in the EU, to name just Poland and the three Baltic states Estonia, Latvia and Lithuania, should be deeply disappointed. They probably think that the US has let them down. They don't know why, and there had been no advanced warning. For some of the rest US's NATO allies, this development may seem controversial. As for Ukraine, it's another very bad moment. Kiev called on US lawmakers to override some of the sanctions the Biden administration dropped relating to the pipeline, including those that were to be imposed on the Nord Stream II AG, the company overseeing the project.
Realpolitik über alles…
Why, then, did the Biden administration made this controversial move? Possibly because it had to choose between two evils:
The first evil is to stick to the sanction policy, at the price of antagonizing Germany and other EU countries which have stakes in the project. The US decision to state that Nord Stream II and its CEO were subject to sanctions and then immediately waive those sanctions, suggests that Washington has realized that keeping the threat of future sanctions is no longer working and the pipeline would get built regardless. According to well informed sources, top Biden officials have determined that the only way to potentially stop the project -which is 95% complete,- is to sanction the German end users of the gas. Instead, the decision seems to have been made to demonstrate the US willingness to preserve the trans-Atlantic alliance, especially with Germany, and not risk it over Nord Stream II.
The second evil is to look meek vis-a-vis Russia, at a time when the Kremlin is more assertive towards the West than it has been since the Cold War. This gesture sets a less confrontational environment ahead of a Biden-Putin summit somewhere in Europe, as it was announced ahead of the meeting between Blinken and his Russian counterpart Sergei Lavrov. Even more, the rapprochement effort comes at the same time that the US-China confrontation in the Southern China Sea flares-up and possibly Washington wants to drag Moscow, or at least severe its link, away from Beijing. Then you call it Realpolitik, meaning you accept setbacks and move on because it is the best option right now.
It's important to note that the US decided to put its relations with Germany above all other considerations. German officials welcomed the sanctions waiver as "a constructive step" from the Biden administration. A day after the US waived penalties German Chancellor Angela Merkel on May 20 also welcomed the US decision to drop sanctions against the disputed pipeline.
Halting Nord Stream 2 construction would dramatically weaken Germany's position vis-a-vis the US and would only enable the US to drive a tougher bargain. Certainly there is a price tag, and we can deduce that Berlin aligning with the tough US policy versus China is part of the deal.
Washington might also gains time, considering the next German coalition government would be more receptive to its demands if it includes the Greens, and this in turn may have an impact on the regulatory regime to be established by the German regulatory authority, although the latter is an entity de jure independent from the government. In this respect, the EU regulation -rather than the US influence- will be the main factor determining Nord Stream II's operation.
Whether Russia will reciprocate with some degree of military de-escalation or hold its spooks and covert actions is a long shot. There are some pundits who consider the US waiver on Nord Stream II as not a concession to Moscow, but part of the US-Germany dialogue, because the pipeline has long become a Transatlantic issue. Despite the rapprochement appearances at Reykjavik, no de-escalation of US-Russian confrontation should be expected at this point.
Even more, administration sources contend any waivers applied to sanctions could be removed at any time. They also argue the act of sanctioning and then waiving an entity establishes leverage over it, given the company would know that at any moment the U.S. could reinstate the sanction. They also add that the Biden administration's goal remains to see that the pipeline doesn't go into use.
3 Crucial Questions (and possibly many more…)
Apart from other sources, the EU receives gas from Azerbaijan via the Southern Gas Corridor (SGC) and its three trunks via Anatolia in Turkey and through the Adriatic to Greece, Albania and on to Italy via TAP. Although these gas volumes are small, 31bcm annually, some 10bcm of gas are destined to southern Europe. Together with Turkey's ambition to become an "Energy Bridge" between Asia and Europe, Russian and Central Asian gas is set to become a fixture in some southern European countries, especially through TurkStream II.
Therefore, whatever the big US geopolitical scheme and the causes for Washington's decision to waive the sanctions on Nord Stream II, there are some eloquent questions that need answers as soon as possible:
1. what about the TurkStream II pipeline?
(see: Bulgaria amid the US-Russian "Energy Clash")
The clash between US and Russia over the energy routes has turned Europe, as well as eastern Mediterranean into a ground of conflicting interests. Some claim that Europe is looking for alternatives to release itself from Russian "claws", while part of it is trying to rely on the U.S. LNG.
Washington is also opposed to the TurkStream II gas pipeline, which carries Russian natural gas to Southern Europe through Turkey, as undermining European energy security and unity. The U.S. Congress increased its pressure on TurkStream II with the National Defense Authorization Act for Fiscal Year 2020 it passed in December 2019 and by supporting some sanctions. Many senior State Department officials have reiterated that "…The second line of TurkStream do nothing to advance Europe's energy security goals and would provide Russia another tool for the political and economic coercion of european countries, especially Ukraine. Russia understands that these projects are dividing Europe, and is using that to its advantage."
2. what is the future of the EastMed pipeline?
(see: REPORT #6 EASTMED: A pipeline of Peace or War?)
Greece, Cyprus and Israel signed on January 2 2020 an InterGovernmental Agreement for the EastMed natural gas pipeline in Athens. The pipeline is planed to run across the Mediterranean from Israel's Levantine Basin offshore gas reserves and Cyprus, to the Greek island of Crete and the Greek mainland and then to Italy. The fact, however, that the pipeline will be designed to carry 10bcm of gas annually, when Nord Stream 1 and 2 alone will reach 110bcm per year, suggests that Europe will not be weaned off Russian gas so easily.
Nevertheless, United States of America is strongly committed to the "3+1" trilateral and the EastMed Pipeline. In fact, nothing could have happened, or may happen in the future without Washington's "heavy weight" support. The U.S. has been very supportive due to its desire to counteract Russian gas to Europe, aiming to have American gas instead, as well as other sources of gas, including eastern Mediterranean gas. At a geostrategic level too, the proposed EastMed pipeline is an extremely important project that complements everything that US has been doing with the "3+1" meetings, supporting the flourishing Greece-Israel-Cyprus relationship.
In addition, the "Eastern Mediterranean Security and Energy Partnership Act of 2019", allows Washington to fully support these trilaterals through energy and defense cooperation initiatives. It also requires the Administration to submit to Congress a strategy on enhanced security and energy cooperation with countries in the Eastern Mediterranean, as well as reports on malign activities by Russia and other countries in the region.
3. what about the FSRU offshore Alexandroupoli's Port?
(see: Deterring Russian and Chinese expansion in the Western Balkans…)
Recent geopolitical shifts and volatility in the wider region have elevated the port's status, attracting interest from Russia and China as well.
The significance of Alexandroupoli's port is stressed frequently by US ambassador in Athens, Joeffrey Pyatt, as well as other high-ranking US officials, who say that Alexandroupoli's role as a military logistics, regional, transport and energy hub, is of great significance due to its role as an energy crossroad with the FSRU, which will be built offshore, the Egnatia Highway, the TAP-IGB Pipeline with Bulgaria, the natural gas power station, and the rail links that eventually will go all the way up to Varna.
The FSRU is an important example of Balkan cooperation to diversify energy sources and route. Greece and Bulgaria are both shareholders in the FSRU, and North Macedonia now seeks to become a shareholder as well as joining Serbia, Bulgaria, and Greece in booking capacity in that facility. There is also a U.S. ownership stake in Gastrade, the company that's developing the FSRU, in order to secure, among other advandages, that some of the FSRU contracts will go to American LNG suppliers.