Although already well understood by Moscow's elite, tens of millions of Turkish citizens learned on December 14th what the American acronym CAATSA means -"Countering America's Adversaries Through Sanctions Act" (Public Law 115-44)- and how this relatively unknown US law from 2017 will soon be impacting their country. Previously, the three targets of CAATSA had been Russia, Iran, and North Korea.
Anastassios Tsiplacos - Managing Editor
UPDATE: US denies "working group" to discuss Turkish sanctions
The US State Department rejected Turkey's claims that the two sides are discussing the formation of a joint working group to discuss the issue of sanctions that Washington imposed on Ankara over its purchase of a Russian air defense system.
Responding to a question from newswebsite Ahval, a State Department spokesperson said there is "no working group" to discuss the US law known as CAATSA or to "study" the threat posed by the Russian S-400 anti-missile system to US-made F-35 fighter jets.
Earlier in the day, Çavuşoğlu said that the United States has proposed a joint working group to discuss recent sanctions imposed on Turkey for its acquisition last year of Russian S-400 air defence missiles. "As we naturally always favour dialogue, we said yes, and negotiations began at the level of experts," Çavuşoğlu in a statement to review this year's foreign policy developments, state news agency Anadolu Agency reported. "Now the proposal came from the US. As we naturally always favor dialogue, we said yes, and negotiations began at the level of experts," Cavusoglu said.
US State Department senior official, in an email message, said "There are routine working-level consultations regarding the impact of the sanctions on existing military-to-military cooperation" but this is not a joint working group. US spokesperson added, "We remain committed to the full implementation of sanctions as announced by Secretary Pompeo on December 14."
The outgoing administration of U.S. President Donald Trump has finally lived up to its legal obligation to impose sanctions on Turkey under the CAATSA law in response to Ankara's acquisition of sophisticated Russian S-400 air defence, missile systems. The law was passed in 2017 largely to counter Russian interventions in Ukraine, Syria, and the 2016 U.S. presidential election, along with other measures targeting Iran and North Korea.
The set of sanctions targeting the Turkish agency responsible for the procurement, Turkey's Defence Industries Directorate (SSB), its head, Ismail Demir, and three other senior officials are seem narrow because Turkey is not the primary target of CAATSA. It mandates secondary sanctions, like those imposed on the SSB and its leadership, as a means to deny Russia's defence sector revenue by deterring the purchase of Russian military exports.
The sanctions imposed by the State and the Treasury Departments are the first really hard blow of the USA against Turkey. They will have military, political, and economic repercussions. They may prove as significant as the arms sales embargo imposed on Turkey after it's intervention in Cyprus in 1974. That had taken place during the Cold War at a time when Turkey still considered itself part of the West. Today Turkey's leadership has a very different take on its relations with the West and it coincides with a time when the West in itself is fragmented.
Nevertheless, this is the first time that the United States has issued CAATSA sanctions against a NATO member. Back in 2018, Turkey was again the first NATO ally to be hit with "Global Magnitsky Act's" sanctions for Erdogan's hostage diplomacy involving an American pastor. At the same time break the taboo, which had secured the well-known peculiar immunity of Turkey from the West, due to its important geostrategic position. In practice, this means that these sanctions may be the beginning, or at least they may not just be the only ones.
President Erdogan enjoyed unprecedented influence over his American counterpart Trump, but their cozy relationship could only provide Ankara with a temporary shield against U.S. sanctions. Trump ultimately had no choice in the matter. Veto-proof majorities in Congress passed the National Defense Authorization Act (NDAA) for 2021 with a provision mandating the imposition of CAATSA sanctions within 30 days of enactment. The American President has threatened to veto the annual defence-spending bill over a variety of unrelated issues, but Congress would likely override such a veto.
What the sanctions really target…
Although Turkey is not the focal point of CAATSA sanctions, its economy is in dire straits after years of mismanagement. Ankara burned through billions of dollars of foreign reserves in a failed effort to prop up the flagging lira. Excluding short-term swaps with commercial banks, the central bank's net foreign assets were negative $52 billion at the end of October.
More specificaly, the recent U.S. sanctions on Turkey could impact the country's economic stability given the vulnerability of its currency, a report published by the Congressional Research Service (CRS) said. The report discusses the possible impact on Turkey if restrictions under the CAATSA are used to disrupt the flow of foreign capital needed to cover the large dollar-denominated debt of the country's financial sector.
The report highlights that the outing administration under President Donald Trump "…did not opt to impose sanctions that could have more directly targeted Turkey's financial system," and that the initial impact on the country's currency has therefore been negligible. Nevertheless, despite some improvement in recent weeks, thanks to a major shakeup in Turkey's economic leadership, the poor health of the economy does not provide President Erdogan a strong foundation to engage in hardball with Washington if it escalates sanctions in the future.
Turkey is also facing possible European Union sanctions over its exploration of gas reserves in contested regions of the Eastern Mediterranean. The CRS' report cited several factors in determining the impact of the sanctions on Turkey. Turkish domestic developments, in which the sanctions are used by Turkish President "…to increase his popularity by attributing Turkey's domestic challenges to U.S. sanctions," is cited as the first factor, while Turkish-Russian dynamic is the second.
On the military level, the ban on any kind of export of any kind of military equipment implies the formal -which partialy existed unofficially since 2018- suspension of spare parts for US-made weapons systems. At the same time, it raises insurmountable obstacles to the Turkish defense industry trying to export weapons systems, as they all contain American subsystems. This parameter indirectly but clearly constitutes sanctions of an economic nature, with all that this implies for the Turkish economy as a whole.
How Washington and Ankara address Turkey's decision to purchase the Russian-made S-400 missile defence system, which initially triggered the U.S. response under CAATSA, may determine how long sanctions remain in force, and define Turkey's relations with the United States and other countries for years to come, the CRS' report concluded.
Nevertheless, the bilateral relationship may not be condemned to retrograde. These sanctions have been imposed under the outgoing administration, after all. Imposing the sanctions now opens the door for President-elect Biden to play the "good cop" after January 20th, and Biden can frame the situation as such to create an opportunity to change Turkey's behaviour. In fact, reached for a comment, a spokesperson for the Biden-Harris transition team said they had no comment on the development. Michael Carpenter, however, a foreign policy advisor to Biden, said last month that the goal of sanctions should not be "…pushing Turkey into a corner" and a way out to correct the issue needed to be included. Antony Blinken, Biden's future Secretary of State, told the Hudson Institute over the summer that Biden will engage with Erdogan from the start and seek to work through issues together.
On the other hand, President Erdogan appears to be on a crash course not only with Turkey's neighbors but also with the entirety of its NATO allies. Ankara appears to have a choice to make between advanced NATO interoperable military technology, and Russian equipment. The longer this decision is drawn out, the more costly it could be for Turkish defence modernization to try to play both sides. Nevertheless, it is difficult one to imagine that Erdogan has the ability to pivot Turkey back toward the transatlantic alliance and its democratic values, and thereby, toward a more amicable foreign and security policy. The Turkish President's political survival requires a further descent into authoritarianism at home and further drift toward fellow authoritarian regimes in Russia, China, and Iran.
Clouds are gathering: The Sanctions…
In a statement released on Dec. 14, U.S. Secretary of State Mike Pompeo announced that the U.S. has imposed sanctions on Turkey's Presidency of Defense Industries (SSB) under Section 231 of CAATSA "…for knowingly engaging in significant transaction with Rosoboronexport, Russia's main arms export entity, by procuring the S-400 surface-to-air missile system…The sanctions include a ban on all U.S. export licenses and authorizations to SSB and an asset freeze and visa restrictions on Dr. Ismail Demir, SSB's president, and other SSB officers," (see: "Secretary Pompeo's legacy: He let Turkey and Russia know what Washington really thinks…")
The U.S. had long warned Turkey against taking delivery of S-400s after Ankara ordered the system in 2017. However, even after it took delivery of the system's first components, back in July 2019, and test-fired it in October 2020, the Trump administration did not impose any sanctions until now.
American sanctions on Turkey's top defense procurement and development body Presidency of Defense Industries (SSB) will not affect "…current, valid, non-exhausted licenses and authorizations," the US State Department has said. However, "…no new export licenses or other authorizations that name SSB as a party will be issued. This includes amendments to agreements that have already been approved and permits following agreements that have already been approved," a State Department's spokesperson added.
The sanctions selected under CAATSA all fall under Section 235 of the law. According to a factsheet provided by the State Department detailing the sanctions selected against Turkey, Secretary Pompeo selected the following five options included among twelve available under Section 235.
"The Secretary of State, in consultation with the Secretary of Treasury, has selected the following sanctions from CAATSA Section 235, as implemented by Executive Order (E.O.) 13849, to impose on SSB:"
a prohibition on granting specific U.S. export licenses and authorizations for any goods or technology transferred to SSB (Section 235(a)(2));
a prohibition on loans or credits by U.S. financial institutions to SSB totaling more than $10 million in any 12-month period (Section 235(a)(3));
a ban on U.S. Export-Import Bank assistance for exports to SSB (Section 235(a)(1));
a requirement for the United States to oppose loans benefitting SSB by international financial institutions (Section 235(a)(4)); and
imposition of full blocking sanctions and visa restrictions (Section 235(a)(7), (8), (9), (11), and (12)) on Dr. Ismail Demir, president of SSB; Faruk Yigit, SSB's vice president; Serhat Gencoglu, Head of SSB's Department of Air Defense and Space; and Mustafa Alper Deniz, Program Manager for SSB's Regional Air Defense Systems Directorate.
At the same time, the U.S. House Foreign Affairs Committee said that Turkey is undermining the NATO alliance and endangering the broader region. "We strongly urge President Erdogan to put an end to Turkey's provocative behaviour so the United States and Turkey can once again enjoy a close and cooperative relationship," the statement said. "The United States must work with its European and NATO allies and partners to continue to use all of the tools at their disposal to demand that Turkey reverse course," the Committee added.
It also raised concerns over Turkey's military operation in Syria which "…risked reversing critical gains by the United States and our local partners in the ongoing counter-Islamic State fight and exacerbated the existing humanitarian crisis". Erdogan had also "…fanned the flames of other global conflicts" by deploying Syrian mercenary fighters during Turkey's military intervention in Libya and in support of Azerbaijan in the disputed Nagorno-Karabakh region. Turkey's "…destabilising actions need to be more strongly addressed," the Committee concluded.
Turkey's "self-sufficient" defense industrial ambitions progress slowly, if ever do…
In recent years, Turkish President Recep Tayyip Erdogan has repeatedly extolled Turkey's domestic arms industry as a shining example of Ankara's growing military independence. Nevertheless, it seems that although Turkey has made progress in developing its military know-how and production capability, there is more rhetoric than reality in Erdogan's words, because a lot of Turkish-built acheivements contain American and Western-made components.
The SSB (Presidency of Defense Industries – Savunma Sanayii Başkanlığı) is the Turkish military's top body for defence project development and industrial participation and has been involved in more than 600 projects as of the end of 2018. Ismael Demir has been its chairman since 2014, after working as head of Turkish Airlines' maintenance and repair unit.
The SSB was renamed and reorganised in 2018, and it became affiliated with the Presidency following the Turkish constitutional referendum which allowed President Recep Tayyip Erdogan to consolidate power in his executive presidency in 2017. The aim of the reorganisation was to develop a modern defence industry and create new weapons for the Turkish Armed Forces.
"Any decision taken abroad towards me or our institution will not change the stance of me or my team. It will not be able to prevent the Turkish industry in any way." Demir tweeted after the sanctions announcement. The number of direct procurements of Turkey's Defense Industries Presidency is minimal, and the productions are carried out by some contractor firms, so the U.S sanctions would not effectively harm the ongoing projects, the head of Turkey's top body for defense project development Demir added.
Asked whether the suggestion that the U.S. sanctions could harm Turkey's defense industry worth at least $1.5-2 billion, Demir said he does not see this argument realistic. "This is not something that will happen within the currently announced framework of the CAATSA sanctions. If there will be a practice and intention beyond that, it is something else. There have already been practices of slowing down and blocking of the projects for a long time," he said.
Elaborating on Turkey's inventory of its fighter jets as Ankara is not able to procure F-35 aircraft at the moment, and its F-16 jets are in the expiring period, Demir said the country can continue modernizing its defense aircraft. "In addition to our current UAVs, our new UAVs, which will carry much larger, heavier ammunition and able to launch air-to-air missiles, are coming soon. We will also have an unmanned jet engine project. Hürjet -a training jet and light attack aircraft- and its advanced models to enter service earlier," he stated.
The Turkish military-political leadership has set ambitious goals to achieve self-sufficiency in almost all types of weapons and military equipment. Efforts to develop the national defense technological and industrial base are seen as an inseparable part of the diplomatic flexibility and international prestige Ankara believes to have gained in cross-border operations in Syria and Iraq since 2016. Another aspect not to be overlooked is that the defense industry has become a distinct area for government grandstanding in domestic politics. Any new military product manufactured locally or sold to foreign buyers is being presented as some sort of political victory in the pro-government media.
The fast expansion of Turkey's defense industry in recent years might be becoming harder to sustain, as newly released data show the sector is struggling to reduce its heavy reliance on foreign inputs and expand foreign clientele, despite growing investments in high-tech development. The 2019 performance report of the Defense and Aerospace Industry Manufacturers Association, released in late April, shows problems in this success story as a result of some structural deficiencies.
Specificaly, foreign sales revenues rose 40% to over $3 billion from $2.2 billion the previous year. Top buyers of Turkish weapons are Turkmenistan, Oman and Pakistan; Turkey has also sold drones to Tunisia and Ukraine together with its joint production and technology transfer efforts to Kazakhstan, Kingdom of Saudi Arabia, Malaysia, UAE, Azerbaijan and Indonesia, the defense industry of Turkey has also became a technology provider to various countries.
On the other hand, crucially imports rose as well. They even slightly exceeded the worth of foreign sales, standing at nearly $3.1 billion, a 28% increase from about $2.4 billion in 2018. The imports are overwhelmingly raw materials such as steel from Finland, to make armored vehicles and intermediate products such as turboprop engines from Ukraine to make drones. The increase in imports is an alarming sign for the Turkish defense industry, underscoring its extreme dependency on foreign inputs. In other words, the increase in exports has relied heavily on imports.
In another downside, new orders in 2019 totaled $10.7 billion, a decrease of more than 12% from the previous year. The drop, which came amid economic turmoil in Turkey, ongoing quality and trust problems in the sector and various crises stemming from Ankara's foreign policy, shows that Turkish defense industry firms are struggling to find foreign markets and that the sector has a structural export problem. Given that the sector now supplies 90% of domestic needs, one may suggest the domestic market has reached a point of saturation. Without expanding foreign sales, Turkey can hardly sustain the expansion of the sector.
Yet the legal and bureaucratic framework on intellectual property rights continues to fall short of supporting this drive. Because of regulatory loopholes, many defense industry firms involved in research and development are embroiled in legal battles with each other, over claims of intellectual property infringements. This spoils trust within the sector and deters firms from collaborating, forming joint ventures and jumping into bigger projects.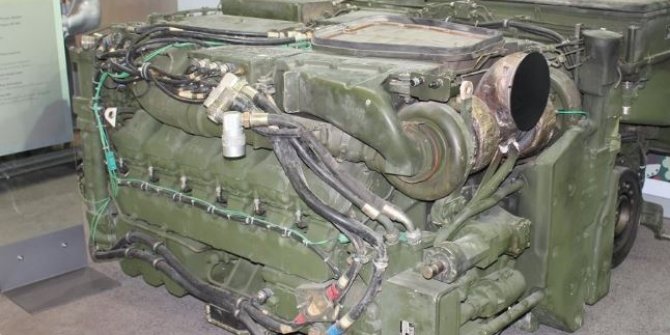 The systemic deficiency of the Turkish military-industrial complex is most clearly reflected in engine building, demonstrating the general underdevelopment of classical mechanical engineering in Turkey. No progress in systems integration, electronics and the creation of a number of other new industries can compensate for the lack of engine manufacturing, which requires a solid school of development and production as well as expensive well-equipped industries.
For Turkey, the situation is exacerbated by the difficulty of accessing Western military engines or licenses and technologies for military propulsion. The reason for this is the aggravation of relations with Western countries, which have subjected Turkey to various kinds of formal and informal embargoes. As a result, all of Turkey's most ambitious military-industrial programs in recent years have been hampered by a lack of access to engines.
MBT Altay: A "general" without a motor…
Attempts by Turkey to develop engines manufacturing itself have, so far, been relatively unsuccessful. Both due to the lack of experience and due to the increasingly obvious reluctance of Western countries to cooperate with Turkey, in terms of technology transfer and licenses. In particular, due to the lack of an engine, the start of mass production of the Altay Main Battle Tank, aiming to be Turkey's first domestically produced battle-tank, is seriously hampered. The project was named in honor of Army General Fahrettin Altay who commanded the 5th Cavalry Corps in the final stage of the Turkish War of Independence against Greece.
Four prototypes of the Altay Main Battle Tank are equipped with German MTU MT 883 Ka501 diesel engines. However, the extensive parliament debate in FRG, concerning arms export to Turkey in recent years, resulting to an unofficial "engine embargo", contributed to the desire of the Turkish defense industry and the military to abandon German engines, and to the development of an ambitious program of mastering the production of a tank engine in Turkey with maximum localization, including full Know-How property and export rights.
In 2015, the Turkish tractor construction company "Tumosan" received a €190 million contract from the Turkish Defense Industry Administration for the manufacture of a diesel engine with a capacity of 1,500 to 1,800 hp for Altay with foreign technical assistance. "Tumosan" chose the well-known Austrian company "AVL List GmbH" as a partner in the development of the engine and obtaining know-how. However, at the end of 2016, the Austrian government denied "AVL List" a license to transfer technology to Turkey.
The fact is that the Austrian parliament unanimously demanded the imposition of an embargo on the supply of weapons and military technology to Turkey, in view of the massive human rights violations committed by the Turkish government, following the unsuccessful military coup attempt on July 15, 2016. As a result, in 2017, "Tumosan" was forced to terminate the cooperation agreement with "AVL List", and Turkish Defense Industry Administration then canceled the contract with "Tumosan" to build the engine.
After that, Turkish contractors tried to find a new partner for the development of a tank diesel engine among various global manufacturers. The Turkish Navy company, which received a contract for the serial production of the first 250 Altay main battle tanks, in 2017 reached an agreement with the British company "Perkins", controlled by the American corporation "Caterpillar", to master the production of an updated version of the well-known Perkins CV12 tank diesel engine. It was previously used in various versions on the British Challenger 1 and 2 battle tanks, as well as on the T-72M4CZ battle tank modernized in the Czech Republic.
At the same time, taking into account the duration of the process of mastering this engine, it was planned that the first 250 batch of Altay tanks would still be equipped with imported German MTU engines, and the localized CV12 (Batu) engines would go to the next series of tanks. In 2018, the SSM signed a deal with BMC for the design, development, prototype production, testing and qualification of the Altay. Interestingly, MTU's sales director is Omer Demir, who has worked with the company since 2018 as head of sales to Turkey and Russia, and he is the son of Ismail Demir, the head of the Turkish Defence Industries Directorate (SSB), who was hit with the recent U.S. sanctions.
However, in 2019 Germany was one of several European Union countries to impose an arms export ban on Turkey, over its military intervention against Kurdish-led forces in northeast Syria, refusing to supply MTU engines and Renk automatic transmissions for the production of Altay, while the process of transferring a license for the CV12 engine was also stalled.
According to sources, in an effort to salvage the Altay tank program, Turkey was negotiating with South Korean firms in an attempt to recover the struggling project. Negotiations were underway with South Korean "Doosan" and "S&T Dynamics", which produce engines and automatic transmission systems. However, a similar system developed by the companies for South Korea's K2 Black Panther tank had failed durability tests, raising questions over its viability, while Ankara also faces issues in sourcing the Atlay's planned armour from France. Relations between Ankara and Paris have been strained in recent months by differences over the conflicts in Libya and between Azerbaijan and Armenia in Nagorno-Karabakh, as well as Turkey's dispute with Greece and Cyprus for drilling rights in the eastern Mediterranean.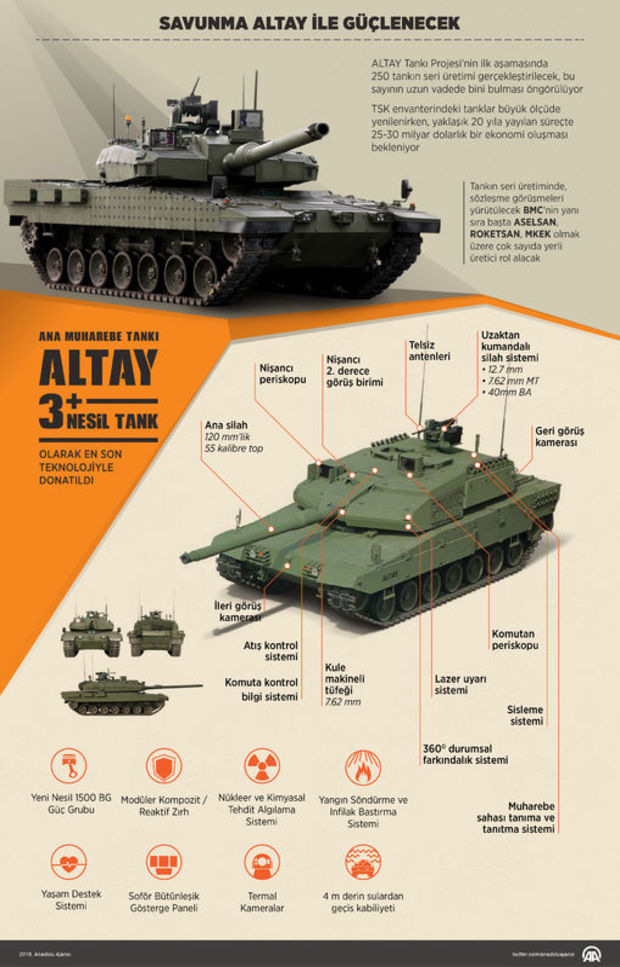 Consequently, the Altay production program remains in limbo, still, although the first tanks were supposed to be produced in 2020. Under recent developments, even 2022 looks like a too optimistic date to start producing a Turkish tank. As a last effort, SSB is considering the possibility of using the Ukrainian 6TD-3 tank engine developed and manufactured by the Kharkov State Enterprise. This could be the next step after Ankara signed an agreement for further exports of Bayaktar TB2 UAVs to Kiev and the production of frigates for the Ukranian Navy, while it could shift some production there.
Other projects…
In terms of land systems, the sanctions threaten to undermine the operational efficiency of radars, command-control systems and armored vehicles, among others. The Turkish defense industry started its journey with licensed production of armored combat vehicles (ACV's) and today has access to more complex vehicles and systems such as armored amphibious rigs, antitank vehicles, medium and main battle tanks together with a wide range of turret solutions.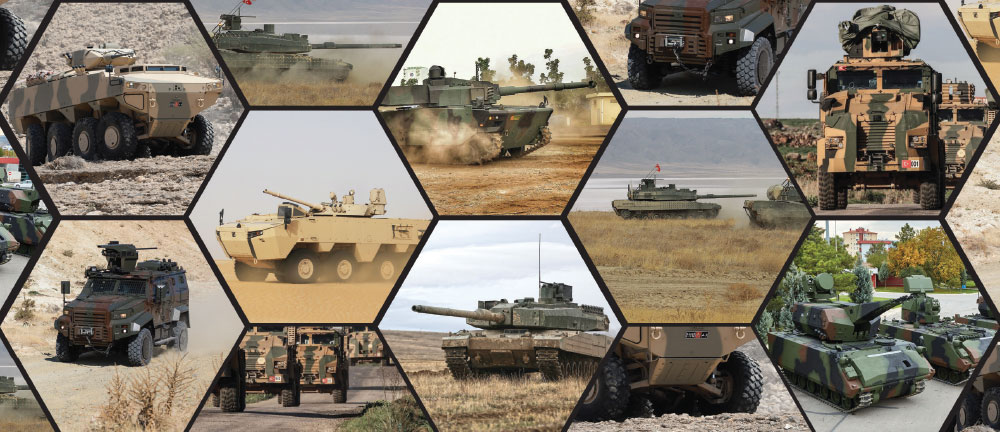 Turkey's defense industry has specialized in 4×4, 6×6 and 8×8 armored platforms, tracked infantry fighting vehicles as well as main battle tanks and weapon systems manufactured by local private companies like FNSS, Otokar, BMC and Nurol Makina. Besides its National Security Forces use of them, these systems are exported to a wide range of users: 8×8 PARS, 6×6 PARS, 6X6 ARMA; 4×4 COBRA, EJDER YALCIN, VURAN; and KAPLAN are some of the product samples.
The TF-X project: Will ever fly?
Turkish aviation programs have similar problems. In 2017, with the participation of then British Prime Minister Theresa May, a £100 million cooperation agreement was signed between the Turkish state-owned aircraft manufacturer "Turkish Aerospace Industries" (TAI) and the British "BAE Systems", on the first stage of development of the most ambitious project of the Turkish military-industrial complex -the prospective TF-X fighter jet. At the same date, Turkish "Kale Group" and "Rolls-Royce" signed also an agreement to establish a joint venture to develop and manufacture TF-X's engine.
However, in March 2019, the agreement with "Rolls-Royce" was frozen, nominally due to disagreements between the parties over intellectual property rights. Nevertheless, not finding other suitable conditions, at the end of 2019, the Turkish government restarted negotiations with "Rolls-Royce", although there is no information on progress in the renewal of the agreement.
Turkey initially planned to fly the first TF-X prototype in 2023. But today, 2025–2026 is already cautiously dubbed as the term, due to the lack of an engine. Apparently, in any case, some imported engines will be installed on the prototypes.
T-129 Atak Helicopter has no engines…
In addition, foreign suppliers of engines began to restrict their re-export, making it impossible for Turkey to supply foreign military equipment of its own production with imported engines. Turkish helicopter projects are critically dependent on imports of US CTS-800A turboshaft engines, manufactured by "Light Helicopter Turbine Engine" (LHTE), a joint venture between the American corporation "Honeywell" and British "Rolls-Royce".
This engine is used by the T625 Gokbey multi-purpose helicopter developed by TAI independently, the first prototype of which made its first flight in 2019. In the past couple of years, the US have denied Turkey the right to re-export CTS-800A engines to Pakistan and the Philippines, that froze the $1.5 billion deal to provide Pakistan -which wants to replace its Bell AH-1F Cobra gunships with the Turkish-made T-129 Atak helicopters -Agusta-Westland's AW-129 "Mangusta" built under license.
To replace the CTS-800A engines on the T625 helicopters and, in the future on the T-129, the Turkish company "Tusas Engine Industries" (TEI), controlled by TAI, is working on the creation of its own turboshaft engine TS1400 with a capacity of 1,400 hp. TEI announced earlier this year that it successfully tested the gas generator of the TS1400 engine and plans to deliver the first prototype engine to TAI by the end of 2020. However, in general opinion, due to Turkey's lack of experience in manufacturing such engines, its development and fine-tuning will take a long time.
In parallel, the Turkish group "Kale" is developing a larger turbojet engine, KTJ-3200 with a thrust of 3.2 kN. It is planned that they will give thrust to the Turkish Atmaca anti-ship missiles -prototypes use the Safran TR140 engine- and at the similar SOM aircraft cruise missiles. However until now, all these Turkish small-sized turbojet engines have not left the experimental stage, and it is not known when they will be brought to full operation.
Bayraktar TB2: The "jwell of the crown"
Perhaps Turkey's most successful piece of equipment in recent years, the Bayraktar TB2 combat UAV, is the "jwell of the crown" of the country's defense industry, which is being exported to local conflicts all around, and is being used with quite a successful track record. The quick progress in UAVs production, as well as exports, is only hampered by one thing: the need to import many parts from abroad, and -especially in Bayraktar's case- disruptions in supply chains due to various reasons.
Namely those reasons include bans of governments or just the reluctance of foreign manufacturers to sell parts to Turkey. This could be due to various reasons -the drones being allegedly used on civilians by militants- as well as through to a push by Armenia, in Nagorno-Karabakh's war case, and potentially Israel -which is the top UAV seller worldwide. Recently, the Canadian company "Bombardier Recreational Products", which owns the Austrian "Rotax", announced the termination of the supply of engines to Turkey for installation on UAVs.
This forced Turkey to look for a replacement. TEI has been developing PD-170 piston engines with a capacity of 170 hp for use on Turkish UAVs for a long time. But this motor is still in an experimental stage -although it was installed on the first prototype of the heavy Turkish twin-engine UAV TAI Aksungur (ANKA-2, aka YFYK), which made its first flight in March 2019. At the same time, bench tests of the engine were again demonstrated in the fall of 2020. Nevertheless, in October 2020, it was announced that the PD-170 engine would be installed, instead of the Rotax on a new modification of the Bayraktar, the TB3.
TEI is also developing a more powerful PD-222 piston engine with up to 250 hp. These engines in particular, have been announced for installation on the new heavy twin-engine UAV Akinci developed by "Baykar Makina".
In fact, despite serious efforts and significant funding, not a single aircraft engine created in Turkey -including the simplest piston PD-170- has been brought to mass production. It is obvious that the creation of engines even for drones is a very non-trivial design and industrial task.
The Turkish Naval Program
In the 21st century, the modernization of Turkey's Navy has become a focus of the country's defense industry. A key element of this effort has been the "MILGEM" project, from the Turkish words "Milli Gemi" (National Ship), under which the Navy has produced frigates and corvettes equipped with advanced electronics and weapons systems.
The "MILGEM", is a Turkish national warship program with the aim to design and build locally a fleet of hi-tech stealth multipurpose corvettes and frigates, that will replace older ships which are currently in service. Through this ambitious program, Turkey seeks to improve national military shipbuilding capacity and skills and ultimately to achieve independence from foreign weapon producers, designers and manufacturers.
More than 50 local companies, including the largest Turkish defense firms such as Aselsan, Havelsan and RMK Marine, play a significant role in the MILGEM project, gaining invaluable experience in warship design and construction.
The programme initially included the construction of 12 ships in two batches (blocks, due to important differences among the batches). The first batch would have included eight (8) multipurpose corvettes the so-called MILGEM Block I -"Ada" (island in Turkish) class, while the last four (4) would be of the TF-100 frigates equipped with vertical-launching system (VLS) for surface-to-air (SAM) missiles. This plan has changed as the first batch will include only four corvettes of the Ada class, while all the rest ships (4 or 8) will be designated as MILGEM Block II.
Old vessels such as the first MEKO frigates, the four ships of the "Yavuz" class, that were commissioned between 1987 – 1989, will be replaced by the new "Istanbul" class or else I-class frigates, known also as MILGEM-G or else MILGEM Block II. The first ship and nameship of the class, TCG Istanbul, was laid down on 19 January 2017 and is expected to enter service by 2021.
As part of the program, shipbuilders such as Yonca-Onuk, Ares, Dearsan and RMK Marine also produce patrol boats, which are a main element of Turkey's export capability. The country enhanced this effort in 2017 when five large, privately-owned shipyards -Sedef, Anadolu, Sefine, Selah and Istanbul- merged to form the Turkish Associated International Shipyards (TAIS) consortium.
REİS class-214 Type 1200 submarines
On July 2, 2009, a contract was signed with the Howaldtswerke-Deutsche Werft GmbH (HDW), Kiel, a company of ThyssenKrupp Technologies, and MarineForce International LLP (MFI), London, for the delivery of six material packages for the construction of equal number 1,800-ton Type 214 submarines to Turkey. The value of the contract is estimated at €2,5 billion. The submarines will be built in Golcuk Naval Shipyard, where 11 submarines of Type 209 were previously built. In all previous submarine building projects, Turkish input was limited. But in the Type 214 production, many Turkish defense companies will supply their own systems. The construction of the first submarine, TCG Pirireis, was officially started on 10th October 2015, 6 years after signing of the contract and is expected to be commissioned by 2021.
TCG Anadolu Landing Helicopter Dock (LHD)
In 2015, during the IDEF 2015, Turkey signed a contract with Sedef-Navantia consortium for the acquisition of one Landing Helicopter Dock (LHD) similar to the Spanish Navy's "Juan Carlos I" class LHD -Australia purchased also two ships, the Canberra class. The 27,400-ton vessel, TCG Anadolu, is intended to meet the various needs and requirements of the Turkish Armed Forces, such as sustaining long-endurance, long-distance military combat or humanitarian relief operations; while acting as a command center and flagship for the Turkish Navy.
Its estimated cost of the ship, according to the final specifications, is $1 billion! This project has become the most expensive defense project to be attempted in Turkey. While some analysts say Turkey needs a carrier like this, some regard the project as an expensive expression of prestige and grandeur that far exceeds the country's limits.
The ship's initial plan was to be capable of operating the F-35B STOVL stealth multirole combat aircraft -Turkey was to acquire about 20 of them and 100 F-35A CTOL- along with 4 T-129 ATAK helicopters, 8 cargo helicopters, 2 S-70B Seahawk helicopters and 2 UAVs, acting as a light aircraft carrier and not only as an amphibious assault ship. However, the U.S. removed Turkey from the fighter jet's programme, after it took the first delivery of S-400 components, thus sinking Turkish ambitions.
The Turkish version of the LHD will have a 1,880m² light cargo garage for TEU containers and 27 Amphibious Assault Vehicles (AAV); a 1,165m² dock which can host four Landing Craft Mechanized (LCM) or two Landing Craft Air Cushion (LCAC), or two Landing Craft Vehicle Personnel (LCVP); and a 1,410m² garage for heavy loads, which can host 29 Main Battle Tanks (MBT), Amphibious Assault Vehicles and TEU containers.
The construction works began on 30 April 2016 at the shipyard of Sedef Shipbuilding Inc. in Istanbul and is expected to be completed in 2021. However this date might be enlongated since the project has been hampered by various accidents and delays.
Nevertheless, when completed the ship will be definitely the largest warship of Turkish Navy and the largest in its history, surpassing even the 25,000-ton battlecruiser Yavuz (former SMS Goeben) of WWI! Providing the Turkish Navy with blue-water capabilities, Turkey's new LHD is estimated to be a game-changer in the eastern Mediterranean. Its main mission profile is power projection to any theater of operation.
Furthermore, the Turkish defense industry has developed systems for combat management, naval mission management, platform level EMI-EMC analysis/tests, platform track management, torpedo and torpedo countermeasures, underwater acoustics and sonar, integrated combat, weapons and missiles, fire control, radar, navigation and platform management in an integrated manner.
How strongly Turkey may be affected…
Over the past decade, Turkey had participated in the production program of the next-generation stealth F-35 and had ordered 100 fighters. However, the U.S. removed Turkey from the fighter jet's programme, after it took the first delivery of S-400 components. Turkish officials in the defence industry dispute the impact of the move, but various pundits and defense sources estimated the damage at $10 billion minus indirect costs.
Turkey is still producing parts for the JSF project
Turkish companies continue to produce parts of the F-35 fighter jets, despite being removed from the program, the head of Turkey's top defense procurement and development body the President of Defense Industries (SSB) İsmail Demir told a group of journalists. "What they did on the F-35 was even against their domestic law. Our legal work continues. Turkey has always met its responsibilities as a partner of the program. Turkish companies are currently continuing to produce parts".
There are about 800 parts that Turkey manufactured for the F-35, and some of them are sole source. Turkish companies had received contracts to do substantial work that Jane's estimated could result in revenue between $5 billion-$6 billion over 20 years, including a TAI contract with "Northrop Grumman", to serve as a second-source production center for up to 400 center fuselages, and a joint venture between U.S. firm "Pratt and Whitney" and Turkey's "Kale Group", to manufacture parts for the JSF's F-35 engines. An initial long term agreement was signed between "TUSAS Aerospace Industries, Inc." and "Northrop Grumman Corporation" to produce composite parts and subassemblies for the F-35 Joint Strike Fighter on 14 June 2005. The ultimate target for industrial return was above 70% of the total Program cost. SSM worked to improve the level of Turkish industrial participation in coordination with the US and other foreign suppliers. For this purpose, SSM and LM signed a Letter of Intent and Industrial Participation Plan on 6 February 2007 in Ankara. Besides, a fund has been allocated for the purpose of supporting the capabilities of Turkish companies (see: "Banning Turkey out of NATO?").
Last year the Pentagon had announced that in early 2020 would end contracts with major Turkish defense contractors, such as "Turkish Aerospace Industries", "Roketsan" and "Tusas Engine Industries", among many others; a process that involved finding new companies to make 1,005 parts, some of which are sole-sourced by Turkish companies. Although Ellen Lord, the Pentagon's undersecretary for acquisition and sustainment, had hoped to stop contracting with Turkish suppliers by March 2020, in January she admitted that some contracts would extend through the year.
Moreover, the Government Accountability Office has reported "According to program officials, some of these new parts suppliers will not be producing at the rate required until next year, as roughly 10% are new to the F-35 program. Airframe contractor representatives stated it would take over a year to stand up these new suppliers, with lead times dependent on several factors, such as part complexity, quantity, and the supplier's production maturity. In addition, these new suppliers are required to go through qualification and testing to ensure the design integrity for their parts."
Opinions vary…
The sanctions do not directly target state-owned military companies and the private sector; the scope was limited to avoid hurting the extensive ties between the US and Turkish militaries. Still, the sanctions stand to affect roughly 40% of Turkey's defense industry imports from the United States and could have a devastating impact should they continue for two or three years.
The expanded restrictions under CAATSA may worsen the situation for the Turkish Air Force. Some years ago, Turkey began stockpiling spare parts for its F-16 fighters out of fear it could face wide-ranging U.S. sanctions. In fact, it was recently revealed that Congress secretly blocked arms deals to Turkey since 2018, reportedly including a contract for "Lockheed Martin" to structurally upgrade 35 of Turkey's older Block 30 F-16 fighters, to prolong their operational lifespan. These U.S.-built jets are the backbone of the Turkish Air Force.
However, it is uncertain yet whether the biggest problem Turkey has with its F-16s is the lack of upgrades, rather than the shortage of pilots. According to various analyses, Turkish Air Force has not recovered yet from the purges of the pilots following the failed coup attempt in 2016. Turkey's doctrine since then has moved toward leveraging drone warfare to support complex ground operations. In that sense, Turkey is in a better relative position than it would otherwise be with regard to the challenges of piloting and upgrading its F-16s.
On the other hand, limiting Turkey's access to export licenses could impact seriously the Turkish military's supply chain, and constrain plans to grow the domestic defence sector. According to the Stockholm International Peace Research Institute (SIPRI), the U.S. remained Turkey's largest military supplier in 2019. And restrictions on Turkey's ability to export military equipment built with U.S. components have already been felt.
As mentioned before, the $1.5 billion deal to provide Pakistan has been cast into doubt after Turkey failed to acquire export licenses for their T-800-4A engine, built by a joint U.S.-British venture. Turkey has sold T-129 to Pakistan but failed to deliver. Islamabad has since given Ankara another year to provide the helicopters, but the set-back is a significant blow to Turkey's reputation as a burgeoning defence exporter (see: "Report #4: Multiple Energy Challenges and Complex Geopolitics").
In the past several years, the United States and European countries have already imposed partial de facto embargoes on Turkey amid myriad political rows. Consequently, the question arises if these new CAATSA sanctions will further undermine Turkey's ability to build more military hardware as well as export locally-built systems.
There are pundits who say that this is not necessary. It depends if the licenses for U.S. origin kit have already been procured, and therefore grandfathered, or if they need licenses for more equipment that could hinder these programs.
Then, there is a more general question of what these sanctions might mean for Turkey's military. It is rather difficult to quantify the damage because we don't have data on future U.S. inputs to Turkish arms production and the knock-on effects are uncertain at this point. There are opinions that doubt these CAATSA sanctions will have direct effects on the Turkish military, pointing out they were written not to hinder military-to-military cooperation. Additionally, such matters aren't governed through SSB and CAATSA's effect will be solely on future SSB-origin contracts.
There could be some ripple effect depending on how foreign suppliers, especially Europeans, would perceive this situation. They may avoid deals with a "contaminated" SSB in order to maintain good relations with the United States. However, Turkey could mitigate the impact of sanctions, by reassigning procurement management to a different government body, such as the Ministry of Defence foreign procurement department, which was responsible for them until a few years ago. In this respect, there are pundits who predict the sanctions will have a short-term impact on the Turkish military, particularly its air warfare capabilities. On the contrary, they will provide even greater impetus for Turkey to further enhance the production capacities of its domestic defence industry. Such a move, however, might trigger additional US measures, as Washington appears determined to enforce the bans.
Even if the incoming administration of President-elect Joe Biden wants to reverse this decision, these sanctions will still be codified in the National Defence Authorization Act (NDAA) and lifting them will be hard. The pressure in bilateral U.S.-Turkey relations is building up to explosion because there is a bipartisan consensus in Washington that President Erdogan needs to back down from his cosying up to Russian President Vladimir Putin, which the S-400 saga symbolizes.
Further sanctions under the Biden administration cannot be ruled out and the European Union could follow suit. German Chancellor Angela Merkel said last week that the EU wants to discuss arm exports to Turkey with NATO allies and coordinate its actions with the Biden administration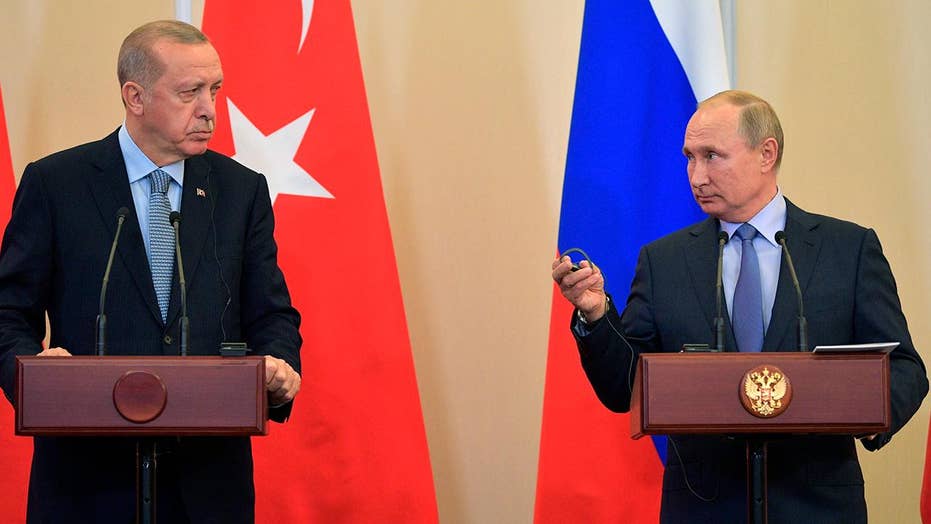 Does Ankara has the will and the capacity to resolve the crisis? The government's foreign policy record in recent years leaves little room for optimism. Moreover, the S-400s are increasingly becoming the subject of domestic politics, at a time when Erdogan is scrambling to divert public attention from grave economic woes. And the Kremlin is, no doubt, closely watching him…